Azerbaijani athletes' achievement in international competitions gains up to 70 medals in just past month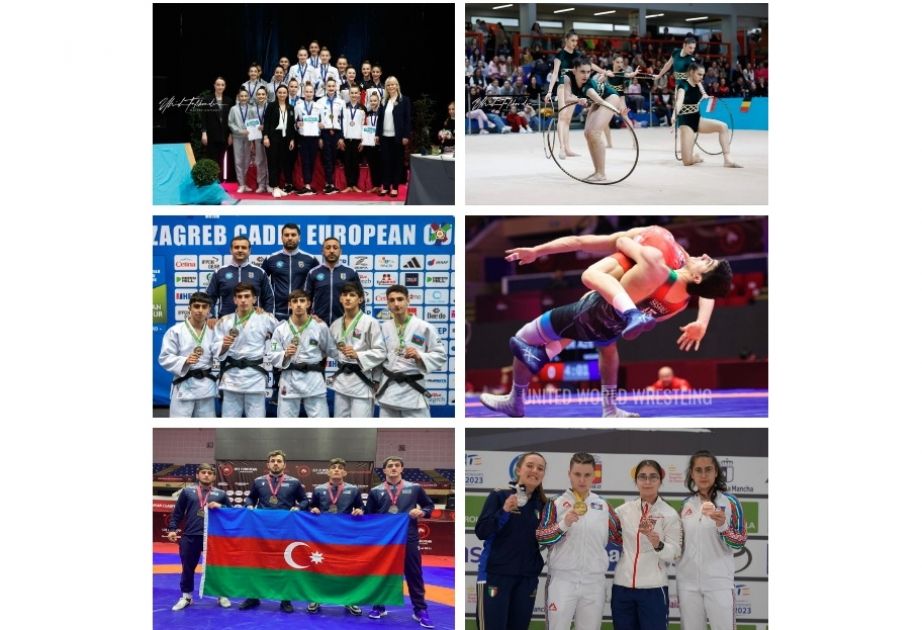 Azerbaijani athletes won up to 70 medals in international competitions in March. We had success in Greco-Roman wrestling, freestyle wrestling, rhythmic gymnastics, sports gymnastics, acrobatic gymnastics, shooting, taekwondo, judo, parajudo, boxing, table tennis, karate, para-karate and other sports, Minister of Youth and Sports Farid Gayibov informed on the official website of the organization for the month of March.
Azernews informs per the ministry that the Azerbaijani national team in freestyle wrestling, consisting of young people under 23, became the European champion for the second time in a row. The fact that our team won three gold, one silver and one bronze medals and defended the title with 140 points gives reason to look optimistically into the future in this sport. We are happy that our first license for the Paris Olympics was also won. Our shot putter Ruslan Lunyov qualified for the Olympics by winning a silver medal in the 10-meter air pistol shooting competition at the European Championship held in Tallinn, Estonia.
"Our country hosted another prestigious competition - the World Cup competitions for men's and women's gymnastics. Of course, development does not happen at once. For this, you need to work with patience and the right approach. In 2016, we started with the participation of 19 countries in the world cup competitions, this time - in 2023 - a record number of 48 countries were represented. The competition, which we organize every year for seven years, is accompanied by year-by-year development. In 2014, women's gymnastics began to be developed in our country. The local staff, who is the first female athlete to perform here, performed among seniors and advanced to the finals. In my opinion, this is already a clear example of development.
Another good news came from Azerbaijan Winter Sports Federation. General Secretary of the Federation Gunel Badalova was elected the President of the European Ski Mountaineering Consulate of the International Ski Mountaineering Federation. The selection of Azerbaijani experts to leadership positions in international institutions has become a regular occurrence recently. This is another success of our sport in terms of international representation," added the minister.
F.Gayibov noted that, finally, the judo section has officially started functioning in our territories freed from occupation. The judo unit opened in Agali village of Zangilan district was put to the service of young judo players with the initiative of the Ministry of Youth and Sports and the support of the Azerbaijan Judo Federation. I believe that as the population settles in other settlements of Karabakh and Eastern Zangazur, necessary steps will be taken for their health and sports.
---
Follow us on Twitter @AzerNewsAz