6 March 2015 12:44 (UTC+04:00)
1 366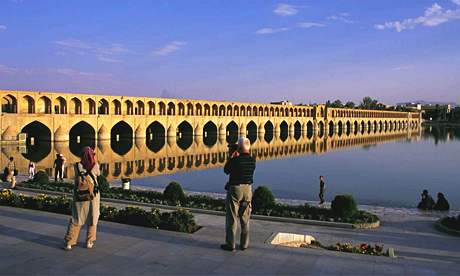 By Sara Rajabova
Iranian official has called for foreign investments in the country's tourism sector.
Massoud Soltanifar, Iranian vice-president and head of the Cultural Heritage, Handicrafts and Tourism Organization voiced Tehran's readiness for foreign investment in its tourism sector.
Soltanifar said foreign investors can invest in Iran as a top tourism destination, noting that Iran is planning to attract 20 million tourists by 2023, Fars news agency reported.
Last October, he announced that the number of foreign tourists visiting Iran has considerably increased in recent times.
Soltanifar said Iran earned $6 billion revenues from tourism industry in the past Iranian calendar year (ended on March 20).
He also added that the implementation of 900 tourism projects is currently underway in different parts of the country.
Iran's tourism industry is booming, with more foreign travelers visiting the country than ever before. Iranian government has recently focused on development of the tourism sector in the country, taking steps to attract more tourists to the country. Iran's President Hassan Rouhani is hoping to attract 10 million international tourists each year.
For the first time in 35 years, the number of tourists who traveled to Iran is more than the number of Iranian tourists visiting other countries.
Official data showed that a total number of 1.474 million tourists traveled to Iran in summer.
ICHHTO reports said the number of European tourists who travel to Iran has significantly increased in comparison to previous years.
The country currently attracts predominantly medical and religious tourists, although this is all expected to change as Iran develops new relationships with foreign nations.
Iran has a diverse landscape and its tourism industry offers a myriad of recreational opportunities.
They range from hot mineral water showers in the northwest to hiking and skiing in the Alborz Mountains to magnificent architectural sight-seeing in the center and beach holidays in the Persian Gulf and the Caspian Sea.
Iran has one of the most vibrant and diverse society in the Middle East that is interesting for the lovers of history and ethnic variety. Naqsh-e Jahan Square, Armenian monastic ensembles of Iran, Bam and its cultural landscape, Bisotoun, Pasargadae, Persepolis, Sheikh Safi al-din shrine, Shoushtar historical hydraulic system, Soltaniyeh, Tabriz historic bazaar complex, Takht-e Soleiman, TchoghaZanbil and the Persian garden are among the Iranian historical heritage inscribed on UNESCO's World Heritage List.
--
Sara Rajabova is AzerNews' staff journalist, follow her on Twitter: @SaraRajabova

Follow us on Twitter @AzerNewsAz