26 June 2014 10:36 (UTC+04:00)
1 380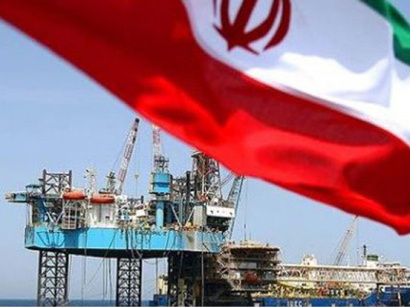 By Sara Rajabova
Iran's industry, mine, and trade minister has said his country's economy could not thrive without the cooperation of international companies.
Mohammad-Reza Nematzadeh said Iran cannot absorb foreign cooperation until it is under sanction, IRNA news agency reported.
He hoped that the upcoming nuclear talks between Tehran and the P5+1 group of countries reach fruitful results so that Iran will be able to absorb more foreign investment.
The representatives of Iran and P5+1 are scheduled to resume nuclear talks in Vienna on July 2-15.
Nematzadeh added that the Industry, Mine, and Trade Ministry has started negotiations with foreign firms over their possible investment in Iranian projects.
He further invited the private sector to play a more active role in Iran's economy.
Deputy Director of Iran Small Industries & Industrial Parks Organization, Qolamreza Soleimani said on June 22 that foreign investors invested some $783 million in Iran's industrial parks in a 12-month period which ended on March 20.
Soleimani said the investment has created over 11,000 job opportunities, noting that currently, some 122 foreign investors are active in Iranian industrial parks projects.
He went on to note that the interim deal between Tehran and the P5+1 group of countries has encouraged foreigners to invest in Iran's market.
Besides, Iran also seeks foreign investment in the oil, gas and petrochemical sectors of the country.
Iran's Oil Minister Bijan Namdar Zanganeh has recently voiced optimism about the return of international oil giants to the country.
Zanganeh pointed to Iran's ongoing negotiations over the resumption of operations by international energy firms in Iran, saying that the Iranian Oil Ministry is optimistic about the return of giant foreign oil and gas companies.
The Iranian Oil Ministry said the country requires about $ 70 billion of investment in upstream and downstream industries, 30 percent of which is related to downstream industries.
World oil giants, including Royal Dutch Shell, British Petroleum (BP), Malaysia's Petronas, Spain's Repsol, Russia's second-largest oil producer, Lukoil, France's Total and Italy's Eni, have shown interest in returning to the Iranian market following a partial relief in the anti-Iran sanctions that come after Geneva deal.
Iran and the five permanent members of the UN Security Council - the U.S., Britain, France, China and Russia - plus Germany inked an initial agreement in Geneva last November 2013 to solve the decade-old dispute over Iran's nuclear energy program.
Iran sits atop one of the world's largest natural gas reserves of over 33 trillion cubic meters and, in the near future, the country is set to increase its gas processing and transfer capacity to one billion cubic meters per day from the current level of 600 million cubic meters per day.
Managing Director of the National Petrochemical Company (NPC) of Iran, Abbas She'ri-Moqaddam has also said Iran is prepared to support all international and domestic investors in the country's oil and petrochemical sectors.
She'ri-Moqaddam described Iran's petrochemical sector as a secure area for investment.
He added that the Iranian Oil Ministry and the NPC support domestic and foreign investors and are prepared for any kind of cooperation.
She'ri-Moqaddam also noted that investors can play an active role in the Iranian petrochemical industry, which is undergoing new developments.
Iran plans to increase its petrochemical exports to $ 12 billion in the current Iranian year (started from March 21).
Iran has significantly expanded the range and volume of its petrochemical production over the past few years, and the National Petrochemical Company of Iran has become one of the largest producers and exporters of petrochemicals in the Middle East.
Related News