4 April 2017 13:02 (UTC+04:00)
1 749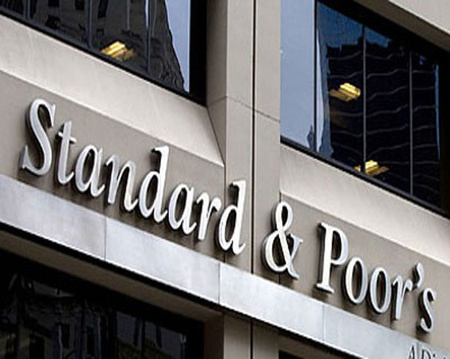 By Trend
The International Rating Agency S&P Global Ratings affirmed its 'BB' long-term corporate credit ratings on Kazakhstan-government-controlled vertically integrated oil company KazMunaiGas (KMG) and its core subsidiary KazMunaiGas Exploration Production (KMG EP), the rating agency said in a message. The outlook remains negative.
The rating agency also affirmed its 'kzA' Kazakhstan national scale rating on KMG.
"The affirmation reflects our view of very high likelihood of extraordinary and ongoing state support to KMG, despite relatively weak stand-alone financial metrics," S&P said.
The rating agency expects weak and relatively volatile financial metrics, including debt to EBITDA of 4x-5x, funds from operations (FFO) to debt of about 12-15 percent, and negative free operating cash flow (FOCF) in 2017.S&P has therefore revised its assessment of the financial risk profile to highly leveraged.
At the same time, the rating agency now takes a view that, even if KMG decided to exercise its option to buy the Kashagan oilfield stake back from the government-controlled holding Samruk-Kazyna, the impact on the rating would be driven more by liquidity than by any further increase in leverage, which is already high. S&P therefore continues to assess KMG's stand-alone credit profile at 'b'.
The negative outlook mirrors that on the sovereign, indicating that a downgrade of Kazakhstan would translate into a similar rating action on KMG, all other factors remaining unchanged. The rating agency could also lower the rating on KMG if it reassessed the likelihood of government support KMG could receive. This currently appears unlikely, however, given the Kazakh government's recent support.
Downside scenarios beyond factors related to the sovereign appear unlikely. S&P could lower the rating if KMG's SACP declines to 'ccc+' or below, which could happen in case of materially deteriorating liquidity, debt-financed investments well above current assumptions (including a debt-financed acquisition of the Kashagan stake), or if significantly lower oil prices undermine the company's sustainable EBITDA generation. Also, downside for the rating could materialize if the likelihood of extraordinary state support diminishes, due to changes in the government's policy, or if the company's role and standing vis-à-vis the government weakens. These are not S&P's base-case scenarios for the rating, however.
The rating agency could revise the outlook on KMG to stable in the event of a similar action on the sovereign. In the long term, ratings upside will likely hinge on materially higher oil prices than S&P currently assumes in its base case and a material reduction in consolidated adjusted leverage, with FFO to debt sustainably above 20 percent, consistently positive FOCF, and no risk of a debt-financed buyback of Kashagan. S&P sees this scenario as unlikely in the next 12-18 months.
---
Follow us on Twitter @AzerNewsAz
Related News