Iran to dispatch warships to Atlantic Ocean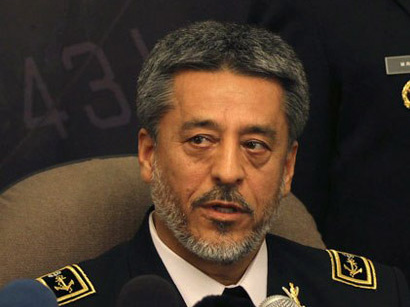 By Trend
Iran's Navy plans to dispatch a flotilla to the Atlantic Ocean, Navy Commander Rear Admiral Habibollah Sayyari said.
Sayyari said the Iranian Navy will dispatch its fleet to South Africa and from there to Atlantic Ocean in the near future, Tasnim news agency reported on September 29.
"We sail in the high seas in accordance with international maritime law," he said, adding Iranian warships have already sailed to the Strait of Gibraltar and the Pacific Ocean up to the maritime borders of China and Tanzania.
He further said the Islamic Republic's Navy is closely monitoring the movement of "foreigners" in Persian Gulf and Sea of Oman.
"Iran will not permit them to approach near its borders and if they try that, the Iranian Navy will confront them as it did in the past," Sayyari said.
The Islamic Republic dispatched its warships to the Atlantic Ocean for the first time in 2014. It was planed that Iran's fleet will approach the US maritime borders in response to the US Navy's presence in the Persian Gulf. However, Tehran cancelled the plan later.
In recent years, Iran's Navy has been increasing its presence in international waters to protect naval routes and provide security for merchant vessels and tankers.
In line with international efforts to combat piracy, the Iranian Navy has also been conducting anti-piracy patrols in the Gulf of Aden since November 2008 to safeguard the vessels involved in maritime trade, especially the ships and oil tankers owned or leased by Iran.
---
Follow us on Twitter @AzerNewsAz