7 January 2015 11:56 (UTC+04:00)
1 770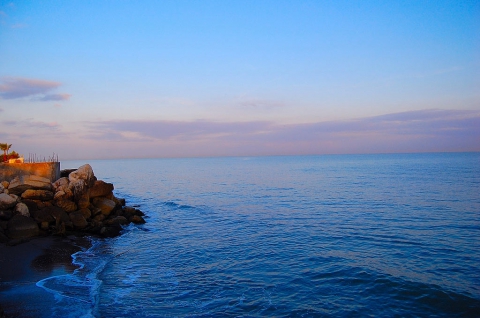 By Gulgiz Dadashova
Researchers of Azerbaijan have successfully developed a way to convert seawater into gas, calling it a potentially new technology.
The researchers say they have a new technology to get household fuel gas from the Caspian Sea waters of Azerbaijan, one of the oldest oil and gas producers in the world.
This technology and prototype of the corresponding equipment were demonstrated within the framework of First Republican exhibition "Intellectual Property and Innovation" in Baku, Trend reports.
Scientists Murvad Garibov and Ahad Bagirov are the initiators of the project.
Bagirov said household fuel gas produced using the new technology, is 50 times cleaner than natural gas, and its calorie content is twice more.
"The advantage of this technology is that the raw material for the production of household fuel gas is inexhaustible. Furthermore, there are unlimited possibilities for expansion. High efficiency proves the cost-effectiveness of this method," he said.
Garibov, in turn, said the technology could be great for all.
Seawater used in the production process as a raw material is eventually converted to sodium hypochlorite, which is used for general disinfection and decontamination of water, Garibov said while explaining the technology.
"The technology is patented. This is an environmentally friendly method of producing household fuel gas, which will play an important role in protecting the environment and combat global warming," he said.
Saying that the new method is a result of hard work, Garibov noted that the work on the project was carried out over the past 10 years.
"Initially, the level of hydrocarbons in the gas was 1.4 percent. We managed to increase this figure up to 85 percent. However, the rate of combustion of household fuel gas obtained by a new method is equal to the rate of combustion of natural gas, which is for us the most important factor. I think we need at least a year in order to increase this figure to 100 percent," the scientist said.
Then again, who knows, maybe salt water fuel could be the next true alternative to natural oil and gas.
--
Follow Gulgiz Dadashova on Twitter: @GulgizD
Follow us on Twitter @AzerNewsAz
Related News