Baku-Tbilisi-Kars sets new goals for Azerbaijan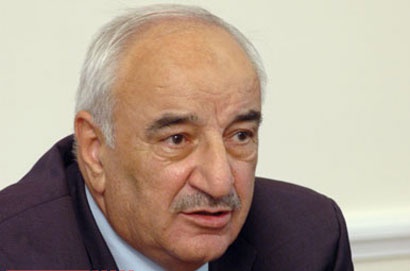 By Nigar Orujova
The Commissioning of the Baku-Tbilisi-Kars railway sets new goals and challenges for Azerbaijani customs authorities and the country is able to cope with them, Azerbaijani Deputy Prime Minister Abid Sharifov said addressing the 10th World Customs Organization PICARD Conference.
The Conference entitled "Partnerships in Customs Academic Research and Development" kicked off in Baku on September 8. Over 200 delegates from 53 countries and representatives of more than 20 international organizations are participating in the event.
"Firstly, it is needed to ensure an uninterrupted flow of goods and services, and secondly, it is necessary to comply with requirements and conditions of other countries. Azerbaijan adopted a new Customs Code to respond to these challenges," Shairfov said.
Azerbaijan stands ready to adequately cope with the goals ahead, Sharifov believes.
He added that a global uninterruptible supply chain is very important for every country, and in this regard, the development and strengthening of customs services' potential is a priority for any country, including Azerbaijan.
"Education is a basis for development of any society," Sharifov further said. "Increasing the customs services' potential and securely attaining a supply chain require holding appropriate reforms. Each country should actively use the skilled labor and knowledge of professionals to attain it."
"For this, it is needed to have an education system standing at the highest level," said Sharifov.
The deputy prime minister also said the customs service plays an important role in ensuring the safety of state, so it should include professionals of the highest level.
"The reforms held in the customs authorities of Azerbaijan, allowed ensuring the country's economic security," he said. "This led to creation of a suitable environment in Azerbaijan for developing business and making investments. Azerbaijan, which is located at the intersection of routes from north to south and from west to east, has from ancient times been one the most important transit points."
"Therefore, the customs service was and remains one of the most important organizations in Azerbaijan," Sharifov stressed.
The Baku-Tbilisi-Kars railway is being constructed in the framework of an agreement signed by the governments of Georgia, Azerbaijan, and Turkey.
The project is being financed by the State Oil Fund of Azerbaijan and slated for completion this year.
A new 105-kilometer branch of the railroad is being constructed as part of the Baku-Tbilisi-Kars project. In addition, the railway's Akhalkalaki-Marabda-Tbilisi section is under renovation in Georgia, which will increase its capacity to 15 million tons of cargo per year. A depot is under construction in Akhalkalaki for the transition of trains from the existing tracks in Georgia to European ones.
The highest capacity of the corridor will be 17 million tons of cargo per year. At the initial stage, this figure will be one million passengers and 6.5 million tons of cargo.
__
Nigar Orujova is AzerNews's staff journalist, follow her on Twitter: @o_nigar
Follow us on Twitter @AzerNewsAz