25 November 2014 12:11 (UTC+04:00)
1 380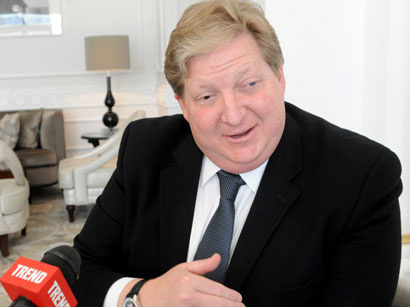 Only ill-informed and politically biased people can criticize Azerbaijan, senior fellow at the Center for Transatlantic Relations at Johns Hopkins University (USA), former senior official in the State Department and National Security Council David Merkel said.
"Largely, criticism of Azerbaijan is misplaced and ill-informed," Merkel wrote in an e-mail to Trend. "For the most part it comes from those with little experience in the region and who have themselves a double standard."
Some Western media outlets have recently disseminated negative articles about Azerbaijan.
"Regrettably, those who speak most loudly and most often have not seen the improvements in Azerbaijan or listened to the people of Azerbaijan - especially the youth - share the excitement they feel about their bright future and that of their country," Merkel wrote.
"I first came to Azerbaijan in 1994 and have visited often over the years," he wrote. "During this time I have seen vast improvements for the citizens of the country reflected in polling results that would make any US or European leader envious. The people of Azerbaijan clearly believe President Aliyev has their country on the right track."
He wrote that life for the people in Azerbaijan has dramatically improved since gaining its independence.
"Today, Azerbaijan is without question the most advanced among those the U.S. recognized as being part of the USSR," he wrote. "This is impressive - all the more - given its difficult neighborhood, occupation of its territory by one of those neighbors."
"Those in neighboring countries also look enviously at the independence, prosperity and stability the wise policy of President Aliyev has provided for the people of Azerbaijan," Merkel wrote.
"Azerbaijan has been a true friend and ally to the United States during the critical days following the 9/11 attacks and continuing to today," Merkel wrote. "The importance of Azerbaijan in Europe, in the United States and globally is growing."
"This is welcomed as Azerbaijan has so much to add," the expert wrote. "Unfortunately, there are those who only see Azerbaijan in negative outdated terms and are threatened by Baku's growing prestige on the world stage."