Azerbaijan, Germany stress inter-parliamentary cooperation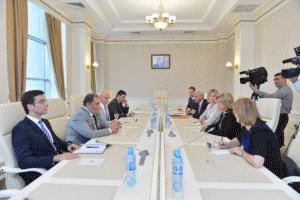 By Sara Rajabova
Azerbaijani and German parliamentary members have discussed the bilateral relations between the two countries.
Vice-speaker of Azerbaijan`s Parliament Valeh Alasgarov met chairman of the German Bundestag Committee on Economic Affairs and Energy Peter Ramsauer and chairwoman of the Committee for Economic Cooperation and Development Dagmar Wohrl on September 17.
Alasgarov stressed the role of inter-parliamentary cooperation in strengthening ties between the two countries.
He briefed the German delegation on the activity of the country`s Parliament, as well as Azerbaijan`s achievements over the last years, particularly socio-economic development and progress in the non-oil sector.
Alasgarov provided an insight into the history and consequences of the Armenia-Azerbaijan Nagorno-Karabakh conflict, which erupted back in 1988 over Armenia's territorial claims against Azerbaijan.
He noted that the conflict which affects regional peace and stability must be solved as soon as possible, adding that the international community must increase efforts on this front.
Wohrl, for her part, highlighted their meetings in Baku. The German MP hailed relations between the two countries as close in various fields.
German Ambassador to Azerbaijan Heidrun Tempel was also present at the meeting.
Earlier in the day, the German MPs visited the School-Lyceum Complex under the Baku Slavic University. They met with pupils, who study the German language.