5 September 2013 12:35 (UTC+04:00)
1 138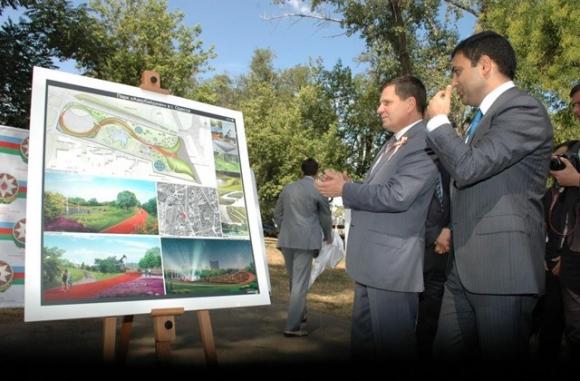 By Nigar Orujova
A concept of the "Azerbaijan" park, which will be built by the Azerbaijani energy company SOCAR, was presented in the frame of the celebration of the City Day in Odessa, Ukraine, on September 3.
"Laying of the new park is a very joyous event for us," said Odessa Mayor Alexey Kostusev, who attended the groundbreaking ceremony of the new park area.
"I believe that in the near future Odessa will turn into a huge blooming garden. We have reconstructed the fountain and the central avenue in the park named after Shevchenko. Our friends come to help us in the creation of parks. And certainly this park will become a favorite place for Odessa residents. I think that we will be able to open the new 'Azerbaijan' park by the 220th anniversary of the establishment of Odessa," Kostusev said.
Odessa will celebrate its 220th anniversary next year. Two parks, Azerbaijan and Istanbul, are expected to be opened in Odessa by that time.
The park "Azerbaijan" will be located in an area of ​​two hectares at the intersection of Segedskaya and Pionerskaya streets. According to developers, exotic plants will be planted in the park, and a fountain and architectural constructions fully reflecting the spirit and atmosphere of Azerbaijan will be built in the park.
The groundbreaking ceremony was also attended by Azerbaijani Ambassador to Russia Polad Bulbuloglu, Azerbaijani Ambassador to Ukraine Eynulla Madatli, head of SOCAR in Ukraine Elchin Mammadov, as well as heads of the diplomatic missions of Poland, Estonia, Turkey and Egypt.
According to Ambassador Bulbuloglu, Azerbaijan has become the most successful country in the South Caucasus. Azerbaijan has always been known for its tolerance towards other nations, he said.
"In the capital of our country, a beautiful, cosmopolitan city Baku, no one ever asks about the nationality. They always care whether you are a good person or not. And this makes us similar to the Odessa residents who live near the sea like one multinational family, just like Baku residents," he said.
An agreement to build the park, which will be similar to the Heydar Aliyev Park in Kiev, was reached in 2012.
Azerbaijani-Ukrainian cultural relations are highly developed. Days of Culture were held in both countries in May and June 2013, in accordance with the action plan on comprehensive cooperation between Azerbaijan and Ukraine for 2011-2015, signed by the presidents of the two countries.
Azerbaijan and Ukraine established diplomatic relations in 1992. The two countries have signed over 80 agreements on friendship, cooperation and partnership.
The two countries support each other's principled positions in international organizations.
Related News