President Aliyev: Azerbaijan, Georgia co-op deepening with every passing day [UPDATE]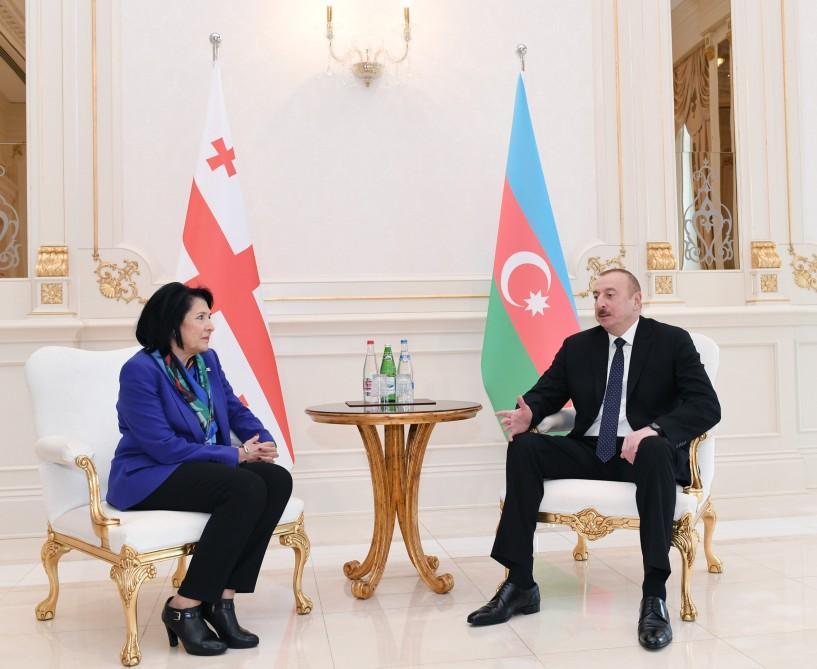 By Trend
Following the official welcome ceremony, President of the Republic of Azerbaijan Ilham Aliyev and President of Georgia Salome Zurabishvili have held a one-on-one meeting.
The presidents made speeches at the meeting.
President of the Republic of Azerbaijan Ilham Aliyev said:
- Dear Madam President, let me sincerely welcome you to Azerbaijan – welcome to our country!
First of all, I would like to congratulate you on winning the recent presidential election and to wish you every success.
I am sure that your visit will be a very important step for the development of Georgian-Azerbaijani friendly relations. I am confident that our discussions will once again confirm that Georgia and Azerbaijan are countries very close to each other and our joint work is producing great results.
We successfully cooperate in all areas, and this cooperation is deepening with every passing day. There are excellent results in the political, economic, cultural, transport and energy sectors. In fact, it is difficult to find an area where we would not cooperate. Of course, we have very clear thoughts on further cooperation. I am sure that during the visit we will discuss areas of future cooperation.
Again, you are welcome!
---
Follow us on Twitter @AzerNewsAz