Smithsonian Folkways Recordings releases Azerbaijani Mugam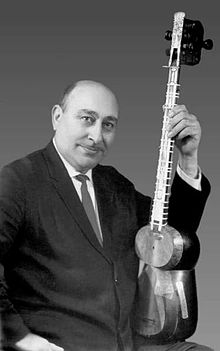 By Nigar Orujova
Smithsonian Folkways Recordings, the nonprofit record label of the national museum of the U.S., has recently released the album "Azerbaijan: Azerbaijani Mugam.
The album is part of the extensive and influential UNESCO Collection of Traditional Music", Azeri America News reported.
The recording features Bahram Mansurov performing on the Azerbaijani tar, an 11-string lute.
According to liner notes by Alain Danielou, Mansurov is "unrivaled for his talent of creation and improvisation in the pure style of the traditional music of Azerbaijan."
More than 125 albums are being released by Smithsonian Folkways Recordings to make the series publicly available again, including more than a dozen never-released albums of musical traditions from around the globe.
Azerbaijan's traditional folk music, Mugham, started to enter into the world culture in the beginning of the last century.
Vocal-instrumental varieties of the compositions are performed by a group of the performers, consisting of a singer - khanende, playing on gaval (percussion musical instrument), tar (stringed musical instrument) and kamancha (stringed musical instrument).
UNESCO included "Azerbaijani music" record consisting of 50 albums into the collection of "Anthology of the world's traditional music" in 1971. The records of Azerbaijan's Mugham were reissued by UNESCO in series of "Musical sources" in 1975.
In 2003, UNESCO recognized Mugham as a Masterpiece of Oral and Intangible Cultural Heritage of Humanity.
--
Nigar Orujova is AzerNews's staff journalist, follow her on Twitter: @o_nigar
Follow us on Twitter @AzerNewsAz