1 May 2013 13:23 (UTC+04:00)
938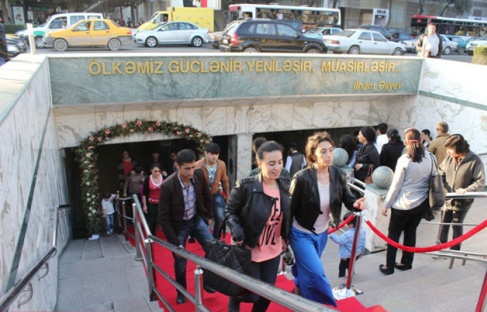 By Nigar Orujova
YARAT! Contemporary Art Space, an organization promoting Azerbaijani modern art worldwide, presented a unique project of artist and designer Orkhan Mammad as part of the Participate Baku Public Art Festival in Baku on Tuesday.
Using a red carpet and some other decorative elements, Mammad transformed an ordinary underground pedestriancrossing near the State Puppet Theater in the city center into a so-called VIP underpass.
By implementing his project, the artist aspires to draw the attention of Baku residents to a usual situation when city dwellers ignore pedestrian underpasses, crossing the street in the wrong place and thus putting themselves and car drivers at unnecessary risk.
Transforming pedestrian crossings, Mammad added to their visual appeal and prestige in the eyes of pedestrians. Each pedestrian using it will be given an opportunity to become a "VIP" and feel his or her own importance in the life of a megapolis.
Passersby may try this VIP underpass until May 14.
This is the fourth project showcased in Baku within the Participate Baku Public Art Festival this year. Some ten artists from Azerbaijan, Russia, Georgia, Britain, Portugal, and the Netherlands created their projects especially for the festival under the principle of interactivity. The festival is sponsored by Bank Respublika.
YARAT Contemporary Art Space, founded in 2011 by Aida Mahmudova, is a not-for-profit organization dedicated to nurturing an understanding of contemporary art in Azerbaijan and to creating a platform for Azerbaijani art, both nationally and internationally.
Based in the capital Baku, YARAT! realizes its mission through an ongoing program of exhibitions, education events, and festivals. It facilitates dialogue and exchange between local and international artistic networks, including foundations, galleries and museums. A series of residencies further fosters opportunities for global cultural dialogue and partnerships.
Related News