Theater of Young Spectators marks Memorial Day [PHOTOS]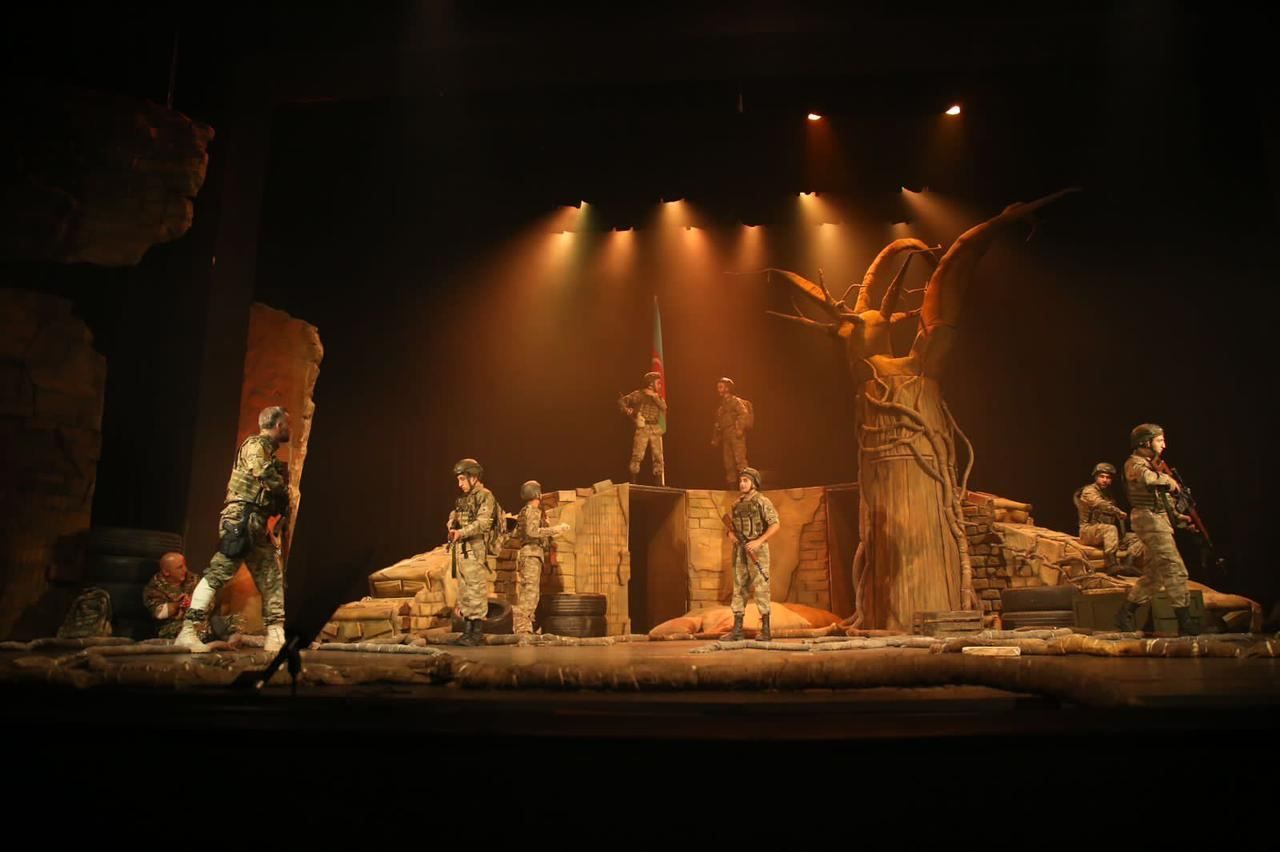 The Azerbaijani State Theater of Young Spectators has presented a play Little Men.
Based on playwright Ilgar Fahmi's work, the play is directed by Honored Artist Nijat Kazimov to mark the Memorial Day, Azernews reports.
The play was shown with the support of the IRELI Public Union.
Vusal Rahim (art director), Isa Asadov (action choreographer), Zaur Rashidov (musical design) were involved in the play creation.
At the opening of the evening, the memory of the National Leader Heydar Aliyev and the martyrs was honored with a minute of silence.
Speaking before the start of the play IRELI chairman Shahin Rahmanli, writer-playwright Ilgar Fahmi, chief theater director, Honored Artist Nijat Kazimov noted that the Azerbaijani people honor the memory of their martyrs, the heroic Azerbaijani warriors who gave their lives in the fight for the territorial integrity of the homeland.
The spectators, among whom were veterans of the Karabakh war, families of martyrs, watched the performance with tears in their eyes, and after it ended they awarded the artists with a flurry of applause.
The audience gave a standing ovation to the theater team, which included Honored Artists Shovgi Huseynov, Rasim Jafar, Elnur Bahramkhan, actors Rashad Safarov, Anar Seyfullayev, Araz Pirimov, Bahram Aliheydar, Nurlan Suleymanly, Khalig Bekirov, Huseyn Bayramov, Umman Budagov, Ilkhan Sadigov, Ramig Nasirov, Mushfig Aliyev, Jeyhun Mamedov and Mirzaagha Mirzoyev.
The Azerbaijani State Theater of Young Spectators plays an important role in shaping the artistic and aesthetic taste of the young generation. The theater has won a great sympathy for art lovers.
The theater officially started its activity on September 20, 1928.
From July 18, 1936, the Baku Children's Theater was renamed to Azerbaijan State Theater of Young Spectators.
Aghadadash Gurbanov, Mammadaga Dadashov, Yusif Eminli, Mina Abdullayeva, Yusif Dadashov, Susanna Majidova, Cavahir Iskandarov, Suleyman Alasgarov, Huseynagha Sadikhov, Karim Hasanov, Zafar Nematov, Maharram Hashimov, Alimammad Atayev were among the first actors and directors of the theater.
The theater's Russian section started operating on November 6, 1928 with the play "Five People" by N.Smirnov and S.Sherbakov.
Azerbaijani section welcomed theater lovers on January 30, 1930 with the play "Against Red tie" by N.Ivanter.
The theater was awarded with the best antique performance at the 12th International Festival of Antique Art held in Simferopol, performing G. Figueredo's "Aesop".
The actors also successfully performed "Othello" in the 32nd International Fajr Festival held in Iran.
The theater actively participates in the propaganda of the cultural achievements of Azerbaijan.
Over the past years, the theater has successfully staged such spectacles as Sheikh Sanan (Huseyn Javid), Aydin (Jafar Jabbarli), "Road to Makkah" (Jalil Mammadguluzadeh), "Cherry Garden" (Anton Chekhov), Othello (William Shakespeare), "Aesop" (Guillermo Figueredo), "Victoria" (Hamsun), "The trick of the Witch" (Y. Schwartz), "Aladdin's magic lamp" (Arabian folktale), "The Last train or Dogs" (I.Fahmi, O.Kazimi), "Nutcracker" (E.T.A. Hoffmann), etc.
---
Follow us on Twitter @AzerNewsAz