Robert Hossein, Turkan Soray awarded Eurasian Legend Award [PHOTO]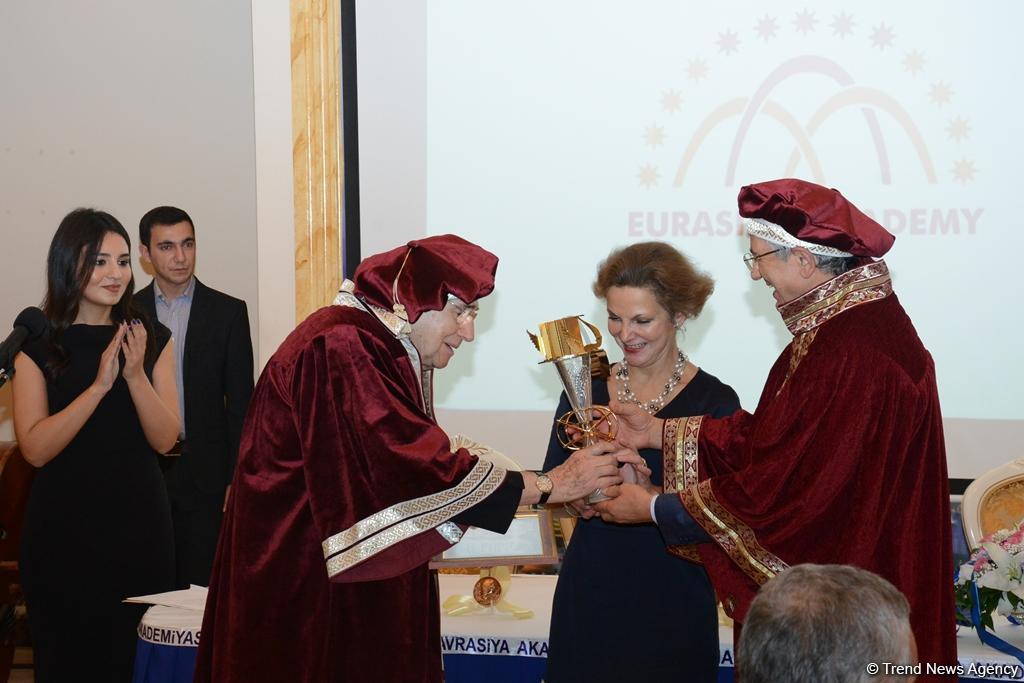 By Laman Ismayilova
A solemn awarding ceremony of the Eurasian Legend Award was held at Khazar University in Baku on November 17.
The extraordinary and legendary French film director and actor of Azerbaijani descent , Robert Hossein and brilliant Turkish actress Turkan Soray received the award, Trend Life reported.
The Eurasian Legend is the symbolic name of an award in the form of a trophy that was custom-made to be given to the members of Eurasian Academy, starting with its five founders. The trophy includes symbols of knowledge, culture, science, and wisdom as well as modern attributes.
The Eurasian Academy is a union of academic scholars and creative professionals; it is a non-political and non-profit society. The vision of Eurasian Academy is to provide assistance for research and creative works in academic and artistic fields as well as those serving human development; to analyze the current situation in these fields; and to present reports and evaluations to the public.
Founder of the Eurasian Academy Hamlet Isaxanli, addressing the event, highlighted the role of Robert Hossein and Turkan Soray in building cultural bridges between the nations.
In their speeches, Robert Hossein and Turkan Soray expressed gratitude for the high appraisal of their activities and voiced commitment to continue their activity in this regard.
Further, the event featured videos about the history and activities of the Eurasian Academy, which was established in 2012, as well as films about the life and creativity of Robert Hossein and Turkan Soray.
The evening continued with amazing concert featuring works by such great Azerbaijani classics as Gara Garayev, Fikrat Amirov and Arif Malikov.
Robert Hossein is a French film actor, director, and writer of Azerbaijani and Jewish origin. His grandfather was born in Azerbaijan, his father in Samarkand. While living in France they made an invaluable contribution to world culture and art. Aminullah Hossein wrote great music - ballets, operas, symphonies.
Hossein started directing films in 1955 with Les Salauds vont en enfer, from a story by Frederic Dard Robert Hossein directed the 1982 adaption of Les Misérables, and appeared in Vice and Virtue, Le Casse, Les Uns et les Autres and Venus Beauty Institute.
He acted in 108 films, including The Professional, The Second Truth, Killer, Vampire from Dusseldorf, Who Knows and others. Hossein worked on 17 screenplays and directed 17 movies.
The Sultan of Turkish cinema, Turkan Soray, is one of big female stars of the old Turkish cinema.
She started in Turkish cinema at the age of 15, when she accompanied to her friend, neighbor Emel Yildiz while going to a film set.After that her career had developed steadily and she had become the most desired women in movies due to her beauty and talent at 1960s.
She had many national and international nomination and awards and was chosen to be a "Artist of State" by Ministry of Culture of Turkey Republic.
In 2010, she was chosen to be a goodwill ambassador by UNESCO.
---
Laman Ismayilova is AzerNews' staff journalist, follow her on Twitter: @Lam_Ismayilova
Follow us on Twitter @AzerNewsAz