FAO to present agricultural program on Azerbaijan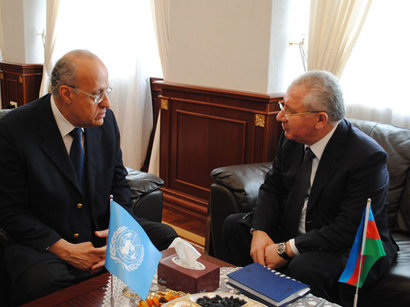 By Nazrin Gadimova
United Nations' Food and Agriculture Organization (FAO) will submit jointly developed framework program to Azerbaijan's Agriculture Ministry in a short time.
This was stated at a meeting of FAO Sub-Regional Coordinator for Central Asia Mustapha Sinaceur with Azerbaijan's Agriculture Minister Heydar Asadov on December 19.
Speaking about the role of the organization in support of activities aimed at the development of Azerbaijan's agriculture, Asadov emphasized the need and importance of reflection needs of the agricultural sector in the program.
Sinaceur, in turn, said FAO's support strategy on Azerbaijan reflects all the issues faced by the country's agriculture.
Moreover, the sides discussed the preparation of the strategy in the field of veterinary medicine, the issue of creating special places for slaughtering and other aspects associated with the expert support that FAO gives to Azerbaijan.
FAO is a specialized agency of the United Nations that leads international efforts to defeat hunger. Serving both developed and developing countries, FAO acts as a neutral forum where all nations meet as equals to negotiate agreements and debate policy. FAO is also a source of knowledge and information, and helps developing countries and countries in transition modernize and improve agriculture, forestry and fisheries practices, ensuring good nutrition and food security for all.
Earlier, Azerbaijan and FAO signed an agreement under the project on the development of seed-growing in the member states of the Economic Cooperation Organization and an agreement on improving the management of the situation with locusts in the Caucasus and Central Asia.