Azerbaijan improving honey bee gene pool [PHOTO]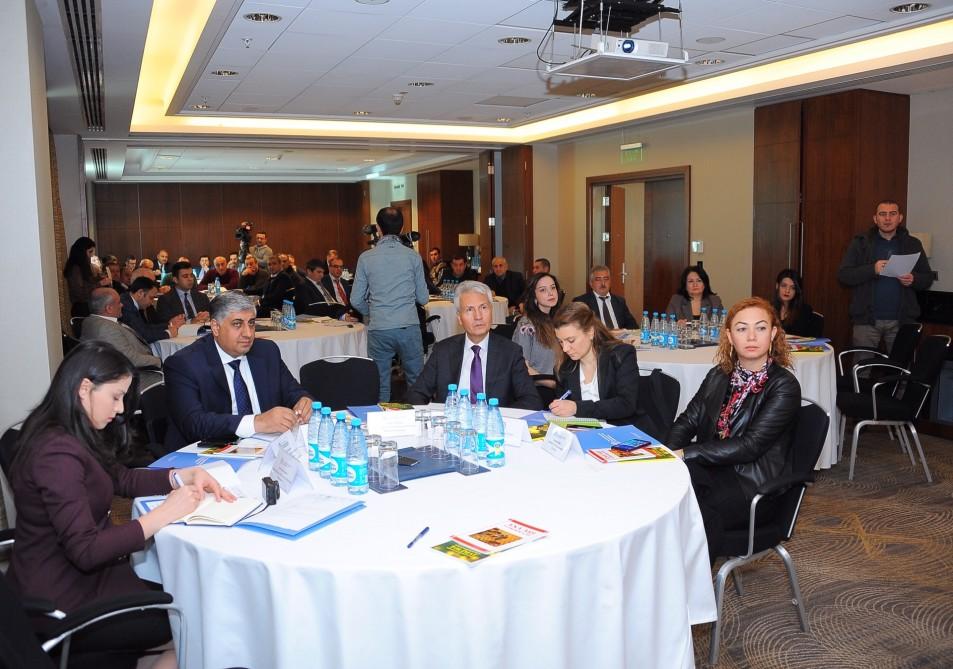 By Sara Israfilbayova
Baku has hosted a final seminar of the project "Improving living standards of rural population through increasing productivity in beekeeping" implemented by Azerbaijan's Agriculture Ministry with the support of the Food and Agriculture Organization (FAO) of the United Nations.
The project aims to increase productivity of local Caucasian honey bee breeds, as well as to enhance skills of beekeepers in order to increase volumes of honey production from one honeycomb. These steps, in turn, are aimed at increasing the income and living conditions of the national beekeepers.
Gene pool honey bee nurseries were established in the Beekeeping Center under Azerbaijan's Research Institute of Animal Breeding, as well as in Gakh region within the project. The bee nurseries, which were provided with the necessary equipment, were established with the support of the FAO.
At the same time, in order to find pure genetic lineage of bees of gray mountain Caucasian breed, samples of insects from various regions of Azerbaijan were collected and sent to Turkey's Ankara, where biological and genetic analyses were carried out.
"Samples of bees were selected from a total of 56 beekeepers from 28 villages of Azerbaijan for examination," the project coordinator Asef Omarov said. "For selection purposes, 125 bees were sent to back to Azerbaijan. They were delivered to both nurseries. Presently, these bees are used as pure genetic material."
The project implemented together with the FAO was launched in 2015. The total cost of the project was $200,000.
Head of the FAO Partnership and Liaison Melek Cakmak told reporters that the FAO will continue supporting development of beekeeping in Azerbaijan, adding that the organization intends to launch another project in this sphere in 2018. S
"This project is the continuation of the first one," Cakmak said. "We have already supported improvement of the gene pool of honey bees. The new project will be aimed at increasing the export potential of Azerbaijani honey, which is the best in the world, according to many experts."
She noted that it is planned to resolve issues related to packaging and international certification of Azerbaijani honey within the framework of the project, the initial cost of which is estimated at $800,000.
Further, head of the animal breeding department of Azerbaijan's Agriculture Ministry Galib Abdulaliyev, answering the questions of reporters stressed that Azerbaijan aims at improving the supply of population with honey.
"Every year, 10 kilograms of honey are collected from each bee family in Azerbaijan," he noted. "This is a very low indicator, since in other countries, the average annual yield of each bee family is 20.5 kilograms of honey. As a result, only 280 grams of honey accounts for one person in Azerbaijan. We intend to bring this figure to one kilogram."
Presently, about 6,000 people are engaged in beekeeping in Azerbaijan, he added.
"In addition to raising the annual yield of bee families, it is also necessary to increase their number. There are about 300,000 bee families in Azerbaijan, but we plan to bring their number to 600,000."
Earlier, chairman of the Association of Beekeepers of Azerbaijan under Azerbaijan Export and Investment Promotion Foundation (AZPROMO) told Azernews that the country produced 3,000 tons of honey this year, while last year the indicator was equaled to 2,700 tons.
Hasratov mentioned that the demand for honey in Azerbaijan is 4,500-5,000 tons, and about 3,000 tons are produced. "This suggests that beekeeping in the country needs to be developed in order to eliminate imports," he explained.
---
Follow us on Twitter @AzerNewsAz