Prices up in real estate market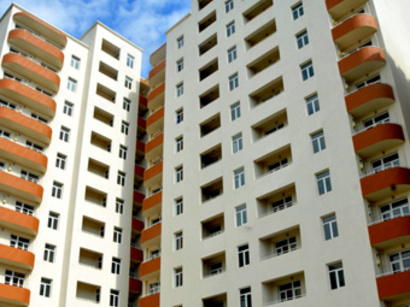 By Nigar Abbasova
Prices for the real estate increased in the capital city in September, following a slight decrease in August.
The CEO of MBA Company and real estate expert, Nusret Ibrahimov told Trend that the prices in the market of primary housing increased by 4.43 percent in the dollar equivalent, while the prices in the manat [national currency] terms faced a growth of 2.76 percent.
The prices in the secondary market, recorded a growth of 3.77 and 2.11 percent in the dollar and manat terms, respectively. The secondary housing market is mainly in demand by those customers, who cannot afford apartments in new buildings.
Ibrahimov said that the growth in prices is mainly connected with certain physiological factors, mentioning that prices in the market of primary and secondary housing decreased by almost 50 percent in manat terms last year.
The property market in Azerbaijan went through certain changes, and recorded a slight decrease in prices after recent economic shocks, including the fall in oil prices, the double devaluation of the manat. The expert said that the market is now regaining its positions, underlining that the process is usual.
The prices in other segments of the market, however, recorded a decrease. The prices of commercial objects fell by almost 4.96 percent in the dollar terms and some 6.48 percent in the manat terms as compared to the indices of August. The prices in the market of land plots faced a fall of 0.83 and 2.42 percent in the dollar and manat terms respectively, while rent prices decreased by almost 8 and 9.4 percent, respectively.
Prices in the market are mainly determined by location, quality of buildings and many other factors.
Regardless the increase, the real estate, which has long ago established its positions as a reliable investment instrument, remains one of the most effective means to preserve and increase capital. There is no difference in the rights of foreigners and local citizens in the field of buying a real estate. The foreign citizen, as well as the citizen of Azerbaijan can buy any property, except a land plot.
Most experts say that purchase of land plots may be considered as the best object of long-term investments, while apartments in buildings under construction is appropriate for short-term investments.
Meanwhile, construction of social houses is expected to be launched in the country soon. The project is expected to provide young and low-income families with renovated apartments with all conveniences and strengthen social protection of the population.
The average apartment cost per square meter in Baku city centre currently amounts to approximately 2,443.92 manats ($1,530.32). Prices outside of centre are 1,044.31 manats ($ 653.920).
--
Nigar Abbasova is AzerNews' staff journalist, follow her on Twitter: @nigyar_abbasova
Follow us on Twitter @AzerNewsAz