Baku 2015 announces Azersun Holding, Bazarstore as official supporters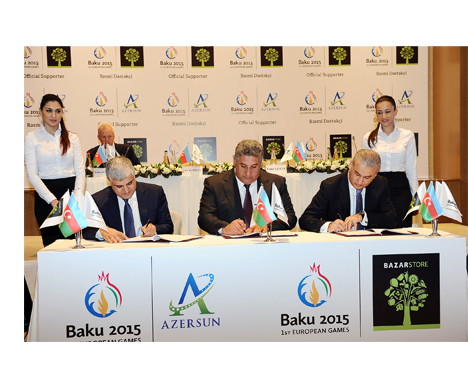 By Nigar Orujova
Baku 2015 European Games has announced food producer Azersun Holding and supermarket chain Bazarstore as official supporters of its inaugural event.
Both companies are household names in Azerbaijan, and will bring enhanced visibility to the Baku 2015 brand, helping to raise public awareness about the games.
As official supporters of the event, Azersun Holding and Bazarstore will benefit from unrivalled marketing activation opportunities in the run-up to and during the games.
"It's a pleasure to welcome these two leading Azerbaijani companies as official supporters of the first European Games, said Azad Rahimov, Youth and Sports Minister and Chief Executive Officer of Baku 2015.
He added that Azersun Holding and Bazarstore are an established part of life for millions of Azerbaijanis, and their support will help continue the momentum growing around Baku 2015.
Azersun Holding will be the official tea supplier of Baku 2015 through its brand Azerçay, which will also be the provider of official tea products of Baku 2015.
Azersun Holding has the right to use the Baku 2015 logo and composite branding in the marketing and promotional activities, including featuring the Baku 2015 logo on the packaging of Azerçay products and composite branding in TV advertisements leading up to the games.
Savas Uzan, Chief Executive Officer of Azersun Holding, said: "We are proud to be official supporters of the first European Games. Tea drinking is an important part of our country's culture, and the hospitality Azerbaijan is famous for."
"By supporting the European Games, Azersun Holding and Azerçay will be part of a warm welcome for our guests at Baku 2015," he said.
Bazarstore has been granted the rights to produce all official Baku 2015 merchandise for sale to the public. As the official supermarket of Baku 2015, Bazarstore will retail official Baku 2015 merchandise from its flagship store, a number of pop-up outlets, and a location at Heydar Aliyev International Airport.
Baku 2015 branding will be featured in Bazarstores across Azerbaijan, on the company's vehicle fleet, in-store promotions, staff uniforms and customer carrier bags, and in billboard advertising.
Tahir Gozal, a member of the board of Azersun Holding, said: "We are delighted that Bazarstore will be the official supermarket of Baku 2015 and will play its part in this historic moment for Azerbaijan."
"By producing and retailing official Baku 2015 merchandise, we will involve our staff and customers in the excitement and anticipation generated by the first European Games. Bazarstore, Azersun Holding and Azerçay are proud to be joining a winning team by supporting Baku 2015," he noted.
Simon Clegg, Chief Operating Officer of Baku 2015, said: "These agreements bring the European Games the support of two of Azerbaijan's best-known companies as well as Azersun Holding's popular tea brand, Azerçay. By having Bazarstore and Azersun Holding as Official Supporters, we will be able to bring Baku 2015 into people's daily lives."
The contracts mean that Baku 2015 now counts seven official supporters, with Bazarstore and Azersun Holding joining McDonald's Azerbaijan, Milla, Motorola Solutions, Sitecore and Tickethour, as well as seven Official Partners, Azal Airlines, BP, Coca-Cola, Nar Mobile, P&G, SOCAR and Tissot.
Charlie Wijeratna, Commercial Director of Baku 2015, added: "These agreements with Azersun Holding and Bazarstore take our announced sponsors to 14 companies and show that the Baku 2015 brand is going from strength-to-strength.
"Both companies complement our strong existing roster of official supporters and official partners very well. Having the best supermarket in Azerbaijan managing our merchandising and retailing both in venues and around the country is extremely positive for this project," he noted.
As the biggest sporting event in Azerbaijan's history, the Baku 2015 European Games will attract more than 6,000 athletes to represent 49 countries in 20 sports on June 12-28.
The Baku 2015 Games will take place in 21 stadia and facilities in Baku and Mingachevir city. The official opening ceremony of the games will take place in the 68,000-seat Baku Olympic Stadium. The Athletes Village will accommodate up to 7,300 people.
--
Nigar Orujova is AzerNews's staff journalist, follow her on Twitter: @o_nigar
Follow us on Twitter @AzerNewsAz