17 November 2015 10:54 (UTC+04:00)
699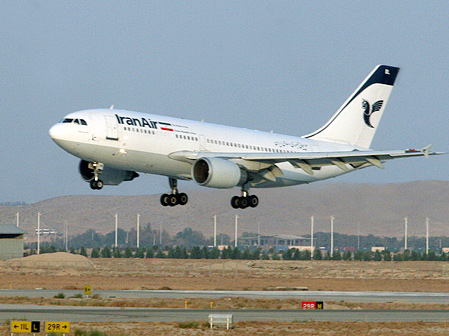 By Sara Rajabova
Following a significant improvement in Iran's aviation sector, the Islamic Republic plans to launch a new airline company, called Tehran Air.
The Iranian media quoted Mohammad Ilkhani, an informed source, to say that the new airline will become operational in the country by next April.
The new airline will deploy 11 aircraft — four Airbus 340 and seven Airbus 321 planes.
Ilkhani was quoted by the Persian-language news agency Tasnim as saying that the airline's fleet is less than 15 years old.
He said Airbus 340 planes will be used for long-distance international flights while Airbus 321 planes will be used for domestic and regional flights.
Ilkhani further noted that the process to launch Tehran Air started about two years ago. He said the planes have already been purchased during these two years.
Ahead of his Europe visit, Iranian President Hassan Rouhani said Tehran would probably sign a deal to buy Airbus aircraft during his visit to France, AFP reported on November 11.
Abbas Akhoundi, Iranian minister of roads and urban development, said Iran's talks with leading plane manufacturers are currently on for purchase of new airliners.
Akhoundi said the Islamic republic is negotiating with first-class aircraft suppliers for sourcing the airplanes which the country needs.
He has already said Iran was talking to both Airbus and Boeing to acquire aircraft under lease or via sale/leaseback deals by 2020.
Earlier, Iranian media reported that the country had bought 13 Boeing-737-400 passenger planes that were manufactured between 1995 and 2000.
Iran has a decrepit civil aviation fleet, with some airplanes averaging 25 years of age, partly due to international sanctions. The country is in the midst of a drive to upgrade its fleet. It is planning to add some 400 new airplanes in the first five years after sanctions are removed.
The Iranian aviation industry is under international sanctions. Sanctions imposed by the West have barred Iran from buying western aircraft since the 1970s.
Moreover, the U.S. Treasury has barred Iranian airlines, including Iran Air, from landing or operating in the U.S. Furthermore, extraterritorial U.S. sanctions prevent European airports from providing Iranian carriers with fuel or accepting their money.
Years of U.S.-led sanctions have left many aircraft in Iran's aviation inventory accumulating dust in the absence of spare parts. Iran has kept its active aircraft in service through parts that were either imported or cannibalized from other planes or even reproduced locally.
However, under an interim nuclear deal in 2013, the West has eased the ban on sales of spare parts but selling planes is still prohibited.
A nuclear accord reached with Tehran in July has provided Iran with a chance to renew its fleet of commercial aircraft. Iran earlier added nine new planes that were less than 10 years old to its fleet.
Iran's civil aviation fleet consists of 248 aircraft with an average age of 19 years, 100 of which are grounded.
--
Sara Rajabova is AzerNews' staff journalist, follow her on Twitter: @SaraRajabova

Follow us on Twitter @AzerNewsAz
Category News