13 October 2015 10:25 (UTC+04:00)
1 294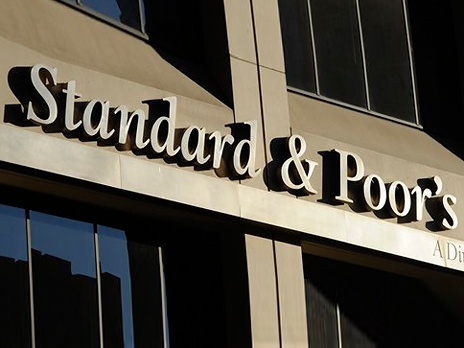 Standard & Poor's Ratings Services said today that it had lowered its long- and short-term foreign currency issuer credit ratings on Eurasian Development Bank (EDB) to 'BBB-/A-3' from 'BBB/A-2'. The outlook remains negative, S&P said.
At the same time, we lowered our Kazakhstan national scale rating on the bank to 'kzAA' from 'kzAA+', and affirmed the Russia national scale rating at 'ruAAA'.
"Our ratings on EDB reflect our view of the bank's strong financial profile and weak business profile, as our criteria define these terms," the statement said.
Similar to other multilateral institutions (MLIs), EDB depends heavily on wholesale market funding, which represents about 90% of its liabilities. Over the past one and a half years, we have observed a significant drop in EDB's bond issuance to only $0.3 billion in 2014 from $1.3 billion in 2013, and no new issuance outside Russia in the first nine months of 2015.
The decrease stemmed from slow portfolio growth; no need for U.S. dollar-denominated funding; and deteriorating conditions in local markets, with higher costs of funding and reduced liquidity.
"However, in our view, EDB's ability to attract financing denominated in tenge and U.S. dollars has deteriorated. This has led us to reassess EDB's funding profile," the statement said.
Long-term funding in tenge will likely remain tight over the next one to two years, further straining EDB's ability to place sufficient bonds to support tenge-denominated loan generation.
"We base this expectation on our observation of continuous delays in the National Bank of Kazakhstan's provision of local currency funding to EDB through bilateral loans," the statement said.
Moreover, most of the government aid, including from the Single Accumulative Pension Fund, the only long-term investor in local currency, is now channeled to local banks.
"Inability to attract tenge funding would increase EDB's tenge funding gap, constraining its capacity to lend in local currency," the statement said.
No tangible plans for EDB to issue dollar-denominated bonds next year, due to substantial devaluation of local currencies and lack of borrowers' interest in dollar-denominated debt.
Moreover, the Central Bank of Russia has recently proposed an amendment to banks' capital adequacy calculation that would lead to EDB's foreign currency denominated bonds being weighted at 100%. In our view, such regulation, if approved, would put additional pressure on EDB's ability to place new Eurobonds, while narrowing its investor base.
"Our view on EDB's liquidity position remains unchanged because the liquidity cushion is ample, with $1.8 billion of liquid assets that cover 87% of the bank's gross debt as of midyear 2015," the statement said.
Even though we continue to view EDB's financial profile as strong, we observe increasing pressure on asset quality and internal capital generation capacity.
The negative outlook reflects that there is at least a one-in-three likelihood that we could lower the ratings on EDB within the next two years, should its financial profile weaken. This could result, for example, from further deterioration of EDB's funding profile or asset quality, as well as from more significant weakening of the economic environment in the region than we currently anticipate.
A downgrade could, but would not necessarily, follow the lowering of our ratings on Russia or Kazakhstan, both of which have negative outlooks. The ratings on EDB could also be affected by changes in the operating environment in the region.
For example, if conditions became more difficult and EDB's NPLs rose significantly, shareholder support weakened, or relations among shareholders deteriorated, we could lower the ratings on EDB.
Conversely, we may revise the outlook to stable if EDB's financial profile were to stabilize, notably its funding and asset quality.
---
Follow us on Twitter @AzerNewsAz
Related News