Kazakhstan announces 2012 oil and gas production figures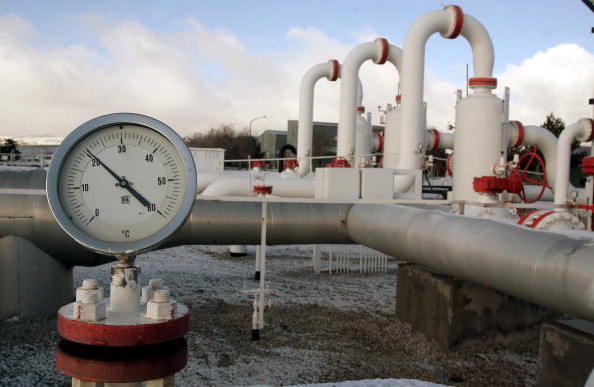 By Aynur Jafarova
Production of oil and oil-gas condensate in Kazakhstan amounted to 79.2 million tons in 2012, Minister of Oil and Gas Sauat Mynbayev said at a board meeting of the ministry, Azerbaijan's Trend news agency reported on Monday.
The volume of exports of oil and gas condensate amounted to 68.616 million tons last year.
Some 27.9 million tons were exported via the Caspian Pipeline Consortium pipeline and 10.4 million tons were transported via the Atasu-Alashankou pipeline to China. Some 7.06 million tons were exported through the seaport in Aktau, and 6.97 million tons were exported by rail.
According to Mynbayev, in 2012, 14.2 million tons of oil -- 3.6% more than in 2011 -- were processed in Kazakhstan's three oil refineries.
Mynbayev added that Kazakhstan is planning to increase oil production to 82 million tons in 2013.
"A volume of 82 million tons was set according to the strategic plan for 2013 and we believe this is a quite reasonable amount," Mynbayev said.
Mynbayev noted that significant schedules lagged in terms of oil production in 2012, particularly in the Tengiz field, due to frequent stops of equipment and repair of railway lines in Russia, which led to a decline in transportation volumes.
Uzenmunaigas did not reach its targets as the company has not yet reached full operation after the strikes of 2011.
According to Mynbayev, the postponement of the start of oil production at the Kashagan field in the first half of 2013 was one of the reasons for the decline in oil production in the country.
Data on gas production in Kazakhstan in 2012 has also been announced.
Mynbayev said gas production in 2012 increased by 1.5 per cent compared to 2011, amounting to 40.1 billion cubic meters.
Output of commercial gas in this period remained at the 2011 level of 21.2 billion cubic meters.
Domestic consumption of natural gas in 2012 amounted to 10.5 billion cubic meters, a 3.2 per cent increase. Gas exports amounted to 8.8 billion cubic meters, a 3.7 per cent increase. Gas transit through Kazakhstan amounted to 96.5 billion cubic meters.
Kazakhstan is interested in minimizing supplies to the Orenburg gas processing plant in Russia from the Karachaganak field because of unattractive prices, Mynbayev added.
At the same time, Mynbayev said Kazakhstan and Russia continue to discuss gas supplies from Karachaganak to the Orenburg plant in 2013.
Previously, KazMunaiGas reported plans on the construction of a gas refinery in Karachaganak by 2021 with a capacity of up to 5 billion cubic meters of gas a year to be carried out over three stages. Minister Mynbayev reported possibilities of a reduction of Karachaganak gas condensate sale volumes to Orenburg, citing low prices offered by Orenburg as the reason.
Kazakh Prime Minister Serik Akhmetov, who attended the board meeting, instructed Mynbayev to increase attention to the large oil projects at Tengiz, Karachaganak and Kashagan.

"There are a number of areas that need greater attention," Akhmetov said. "Development of the industry in the short and medium term will depend on major projects. I am talking about Tengiz, Karachaganak and Kashagan. They will account for more than half of the total production of hydrocarbons. Taking this into consideration, the Ministry of Oil and Gas should pay special attention to the development of transportation infrastructure, including an increase in the capacity of existing pipelines and the opening of new supply routes for hydrocarbons to domestic and international markets."
According to him, it is necessary to pay special attention to environmental factors. In particular, the issue of environmental risks has to be taken into consideration during the implementation of these projects. In addition, the prime minister mentioned the issue of mutual supplies of oil and gas between Kazakhstan and Russia.
"We are actively negotiating with Russia on a number of issues related to the mutual supply of oil and gas, the supply of Kazakh gas to the Orenburg refinery and supply of Russian oil to the Pavlodar Petrochemical Plant," Akhmetov said.

The Kazakh prime minister stated that "it is necessary to clearly understand and complete the negotiation process by the end of the first half of the year and subsequently provide maximum protection of the interests of the country."
Akhmetov ordered to speed up the construction of the Beyneu-Bozoi gas pipeline, which will supply gas to the southern regions of the country.
"In accordance with instructions from the President, the first section of the pipeline has to be commissioned this year. All preparatory procedures on the second section of the Beineu-Bozoi are to be completed within the current year. Construction will start not in 2014, but in 2013. Once again I am shifting the focus to this issue," Akhmetov said.
According to the prime minister, the primary goal in the gas sector is a stable and uninterrupted supply of gas in Kazakhstan.
"We know that our southern regions are dependent on gas from elsewhere. I think that the construction of Bozoi-Shymkent [pipeline] will be conducive to bringing in gas, which is very important to consumers," he said.
Akhmetov also instructed the Ministry of Oil and Gas to develop and approve a general plan of gas supplies and heed attention to the issues of rural gas supplies this year.