Azerbaijan to hold int'l horse-riding tournament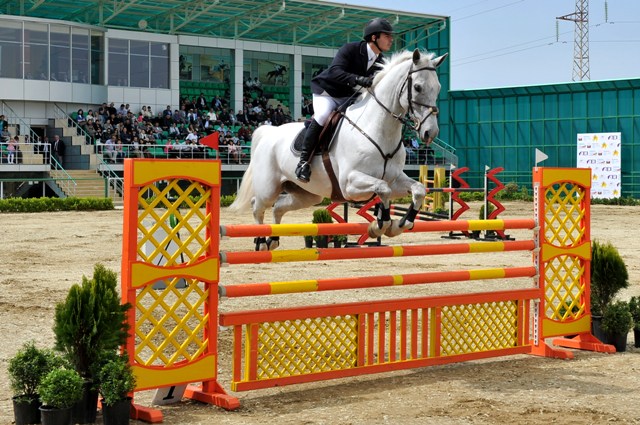 By Nazrin Gadimova
Azerbaijan will host an international horse-riding tournament, in which riders from Georgia, Iran and other countries will participate.
The tournament will be held on January 10-12 at the equestrian center "Sarhadchi", located in Absheron district of Novkhani. The tournament will be in the CSI1*-W/CSIYH1* category.
Azerbaijan's Equestrian Federation reported that about 20 riders and 40 horses are expected to participate at the event, whose prize money amounts to $15,000.
The judiciary will involve representatives of Turkey, Kazakhstan, Russia and Iran.
Earlier, CSI2* international show jumping event was held in outdoor arena of Baku-based Bina Equestrian Center. Moreover, Azerbaijan hosted such a great event as Arena Polo World Cup on September 6-8.
Horses have been a matter of pride and dignity for the Azerbaijanis for centuries. Azerbaijani epic literature represents a number of legendary horses, such as Girat of national hero Koroghlu or Bozat of another hero, Gachag Nabi, which throughout history came to the rescue of their masters, keeping them away from danger.
Azerbaijan has long had favorable geographical and climatic conditions for animal breeding and equestrian development. The first presence of horses in this region dates back to 5,000 B.C.E.
The famed Karabakh horses, valued for their endurance in mountainous terrain, mild temper and dense chestnut color, are considered to be a national animal of Azerbaijan.
Moreover, Azerbaijanis have such a cultural heritage as Chovgan game, the original form of the polo sporting game that dates back thousands of years, and which is still played in Azerbaijan. It worth to be noted, that this ancient game has been included in the List of Intangible Cultural Heritage of UNESCO during the 8th Session of UNESCO Intergovernmental Committee for the Safeguarding of the Intangible Cultural Heritage, which was held in Baku on December 2-7.
Chovgan originated in the middle of the first millennium A.D. as a team game. It has been very popular for centuries both in Azerbaijan and Central Asia. Fragments of the game were portrayed from time to time in ancient miniatures, and detailed descriptions and rules of the game were also reflected in ancient manuscripts.