8 October 2013 15:49 (UTC+04:00)
1 679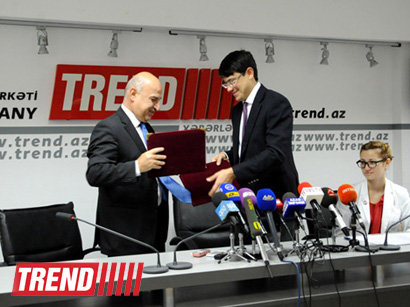 By Nazrin Gadimova
GUAM and the Great Silk Way International Union signed a memorandum on cooperation in Baku on October 8.
GUAM Secretary General Valeri Chechelashvili and Chairman of the Great Silk Way International Union, MP Fuad Muradov signed the document.
"Cooperation between the two organizations will cover areas such as economy and humanitarian sphere, in particular organization of business meetings, cultural and sporting events," Muradov told journalists after signing a memorandum.
According to Muradov, the main goal of the cooperation is to attract the GUAM member states to cooperate more closely in the international arena.
In turn Chechelashvili said that the authority of GUAM in the world is growing every day, more and more countries and organizations interested in cooperation with the organization.
"The signing of a memorandum on cooperation with the Great Silk Way International Union is one more step in this direction," GUAM Secretary General said.
GUAM was established by the post-Soviet countries in 1997 during the EU presidential summit at Strasbourg. In 1999, Uzbekistan joined the organisation and left four years later. A decision was made to rename GUAM as an international organisation called 'Organisation for Democracy and Economic Development - GUAM', at the body's first summit in Kiev in 2006.
Related News