Azerbaijani parliament to discuss legislation on toll roads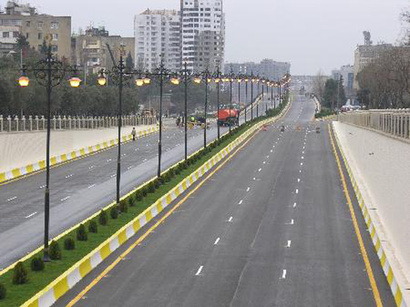 By Nigar Orujova
Azerbaijan is establishing legal framework for regulation of toll roads. A relevant bill on amendments to the "Law on roads" has been proposed by the parliamentary economic policy committee for discussion in parliament.
The amendments envision creating new toll roads or arranging paid roads based on the current public roads.
According to the new legislation, the toll roads will be created to modernize and expand the highway system, attract foreign investment, render high quality services to car drivers, ensure safety on the road, etc.
Fees for such roads may be applied for using the whole road or a part of it. The cost of using roads will be determined by relevant executive authorities.
Military and special purpose vehicles including police, utilities and ambulance will use these roads free of charge.
The owners of such roads may completely manage all the resources related to the roads' operation.
According to the bill, a unified registry of roads will be created as well. The registry will be a public information resource containing information on all the roads, regardless of their type and importance.
The creation and maintenance of the registry will be conducted by the relevant executive authority.
The registry will be maintained both on paper and electronic devices. The registry will include information about the roads' owners, indices, length of the roads, book value, actual condition, the space they occupy, condition of the road surface and location of road signs as well as maps.
Under the mentioned bill, any interested person may obtain the necessary information from the registry with the exception of data representing a state secret. Information is provided by the relevant executive authority for a fee.
The bill assumes creation of the roads in case alternative free roads are available, to provide high-speed and safe traffic.
Earlier the Asian Development Bank reported conduct of a study to examine the possibility of introducing toll roads in Azerbaijan. The work was carried out in the frame of the first tranche of the ADB's multitranche financing facility (MFF) aiming to finance road construction in the country.