Baku-Tehran ties mulled in Pakistan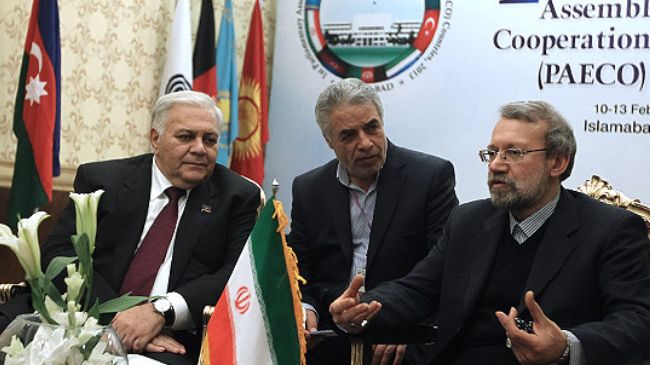 By Nigar Orujova
The parliamentary speakers of Azerbaijan and Iran have discussed bilateral relations in Islamabad.
Speakers Oqtay Asadov of Azerbaijan and Iran's Ali Larijani met on the sidelines of a meeting of the Parliamentary Assembly of the Economic Cooperation Organization (PAECO) in the Pakistani capital on Monday.
During the meeting, the Azerbaijani and Iranian officials underlined the need for maintaining awareness against the plots devised by enemies to cause a rift between Tehran and Baku.
Both Asadov and Larijani noted that there are some countries that do not want Iran and Azerbaijan to have friendly ties and interfere to prevent the two countries' convergence and unity.
The sides also discussed possibilities for expansion of bilateral ties.
Pointing to his recent visit to Azerbaijan and his fruitful meetings with the country's officials, Larijani said some people do not like Iran and Azerbaijan's having friendly relations "but we are two countries with bonds".
Asadov also described Iran and Azerbaijan as two brotherly countries with much in common.
"I accept your word that certain people are displeased with the expansion of our relations and want to damage our relationship, hence, we should be vigilant against their moves," Asadov said, concurring with Larijani's remarks.
Earlier, at the meeting with Iranian Ambassador in Baku Mohsen Pak-Ayeen, Asadov stated that boosting bilateral cooperation is in the interest of the two brotherly and Muslim states.
Then, the sides stressed the importance of expanding parliamentary ties between the two countries.

Emphasizing the commonalities of Iran and Azerbaijan, Pak-Ayeen called for the expansion of cooperation between the two neighboring nations, saying that the potential for cooperation is much greater than the existing relations.
According to the ambassador, there is no tension in the relations between Iran and Azerbaijan, but there are differences of opinion.
"Iran is interested in reducing the differences of opinion and raising the level of cooperation with Azerbaijan," he said, noting that the negative coverage in Western media about the Iranian-Azerbaijani relations aims to harm the relations between the two countries.
Asadov, for his part, welcomed the exchange of parliamentary delegations between the two countries, and described as important the broadening of relations between the two countries in economic, cultural, scientific and parliamentary fields.
The first PAECO conference presided by the Speaker of Pakistan's National Assembly Fahmida Mirza opened on Monday and runs until Tuesday.
During the event, representatives of Economic Cooperation Organization (ECO) member countries are scheduled to deliver speeches on the role of parliaments in the promotion of regional trade and investment to ensure sustainable social and economic development in the region.
ECO is an intergovernmental regional organization established in 1985 by Iran, Pakistan, and Turkey for the purpose of promoting economic, technical, and cultural cooperation among member states.
The organization was expanded in 1992 to include seven new members, namely Afghanistan, Azerbaijan, Kazakhstan, Kyrgyzstan, Tajikistan, Turkmenistan, and Uzbekistan.