11 January 2013 17:57 (UTC+04:00)
1 007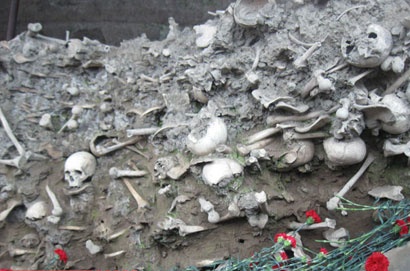 By Nigar Orujova
Bones found at the burial mound in the northern Azerbaijani region of Guba will be placed in a glass box at the Guba Burial Ground in March 2013 to honor victims of the genocide committed by Armenians against Azerbaijanis in 1918, the Guba genocide expedition head told Trend news agency on Thursday.
According to Gahraman Agayev, the bones will be cleaned up and further placed under glass. Visitors will be able to see them after the work is completed in the near future.
Along with the burial, the Genocide Memorial Complex, located 100-120 meters away from the burial ground, is planned to be commissioned in Guba.
The Guba Burial Ground has great historical significance for Azerbaijanis. The mass burial was discovered during the operations on building a stadium in Guba in April 2007. An expedition of the Institute of Archaeology and Ethnography embarked on archaeological research in the area in July that year.
Azerbaijani researchers have confirmed that the burial was part of the genocide committed by Armenians in March 1918.
According to Agayev, there are several pieces of evidence to substantiate the conclusion.
"First of all, it was established that the bones are not older than 90 years," Agayev said. "The ancient bones would have solidified, while the bones found in Guba are still moist. Secondly, eyewitnesses of the developments recall that Azerbaijanis massacred in the early 20th century had been buried in those areas. Thirdly, the location used to be a garden called Sad Pristavov that belonged to the Russians, and local residents were unable to even come close to it."
Agayev said entry to the garden was banned during the Soviet times. Access by the local population was granted only in the 1960s.
"This fact, by itself, shows that the Russians, who acted as Armenians` benefactors, were aware that mass burials of Azerbaijanis had been carried out in Guba. It is for this reason that no one was allowed to enter there for so long," the expert concluded.
Agayev emphasized that all of the buried persons were civilians, which is proven by substantial facts. For instance, most of the buried corpses are the bodies of children, the elderly and women. The fact that the bones were scattered all over the area indicated that those persons had been killed with utmost brutality.
The remains of 190 people have been found in the 500 square meter area so far.
The Jewish community was subject to the atrocities as well.
A number of high-officials all over the world have visited the burial and were appalled with the brutal killings.
In 1918, Armenians killed 16,000 people in the Guba district alone. During the tragic developments, over 50,000 Azerbaijanis were slain throughout the republic and 10,000 people were ousted from their homes.