29 May 2018 13:05 (UTC+04:00)
1 662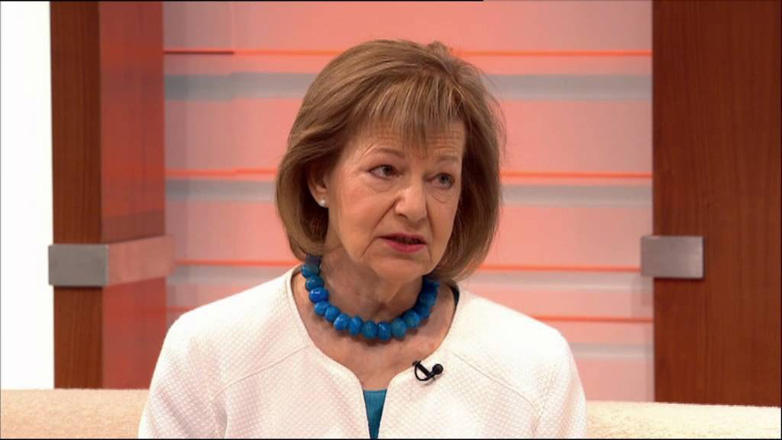 By Trend
The oil and gas industry remains the cornerstone of UK's commercial relations with Azerbaijan, the UK Prime Minister's Trade Envoy to Azerbaijan, Turkmenistan and Kazakhstan Baroness Emma Nicholson said.
Nicholson made the remarks in Baku May 29 at the commissioning ceremony of the first stage of the Southern Gas Corridor project, which implies the supply of Azerbaijan's gas to Europe.
"As my Prime Minister's Trade Envoy to Azerbaijan I'm delighted to be in Baku again supporting the 25th Anniversary International Caspian Oil & Gas Exhibition," she said.
"It was always a great pleasure to visit Azerbaijan and I am delighted to offer my warmest possible congratulations on the anniversary of the Azerbaijan Democratic Republic," Nicholson stressed. "The founders of the Azerbaijan Democratic Republic were ahead of their time in granting rights to women."
"This year marks the completion of another milestone of energy collaboration," she said. "The first gas from BP's Shah Deniz-2 platform will flow through the Southern Gas corridor network of pipelines into Turkey. This is a major step forward towards realizing the vision of delivery of great energy security to Europe. And together we have created successful partnership in the solid foundation for the future."
"I am privileged to having been present when BP and SOCAR signed the latest agreement in London," Nicholson said.
"The deepening collaboration can only bring economic benefits for both countries and beyond," she added. "That's a clear illustration of the importance the UK attaches for growing bilateral and commercial partnership."
The Southern Gas Corridor, worth over $40 billion, is considered as one of the priority energy projects for the EU, which strives for diversification of gas sources. The project envisages the transportation of gas from the Caspian region to the European countries through Georgia and Turkey.
At an initial stage, the gas to be produced in the Stage 2 of development of Azerbaijan's Shah Deniz field is considered as the main source for the Southern Gas Corridor projects. Other sources can also connect to this project at a later stage.
As part of the Shah Deniz Stage 2, the gas will be exported to Turkey and European markets by expanding the South Caucasus Pipeline and construction of Trans-Anatolian Natural Gas Pipeline (TANAP) and Trans Adriatic Pipeline (TAP).
The first stage of the 2,000-km Southern Gas Corridor (SGC), from Azerbaijan's Caspian shores to Eskisehir in Turkey, will come on stream May 29 with a ceremony in Baku. A ceremony to commission the Trans-Anatolian Pipeline (TANAP) is scheduled for June 12, 2018.
The state and government delegations of the countries that will receive gas, as well as the heads of companies that are involved in the project will attend SGC opening ceremony.
---
Follow us on Twitter @AzerNewsAz
Related News