17 February 2017 12:27 (UTC+04:00)
2 750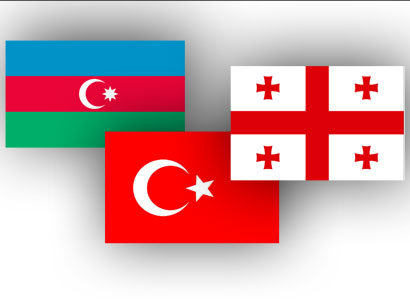 By Kamila Aliyeva
A trilateral cooperation among Azerbaijan, Georgia and Turkey in defense sphere will further strengthen after formalizing a Memorandum of Understanding in May 2017.
The issues relating to the trilateral cooperation among Georgia, Turkey, and Azerbaijan were discussed at a meeting between Georgian Defense Minister Levan Izoria and his Turkish counterpart Fikri Isik in Brussels on February 16, Georgia-Online reported.
The parties noted that the trilateral cooperation format contributes to strengthening of the regional security.
The ministers also discussed issues related to the upcoming meeting of Turkish, Georgian and Azerbaijani defense ministers in Tbilisi scheduled for May 2017, during which it is planned to formalize a memorandum on trilateral cooperation.
The memorandum of understanding, which is under development, will be a legal base of the three countries' cooperation and allow their trilateral activities to enter a new stage.
The memorandum is of great importance for Azerbaijan as the Caspian State is interested in further development of the strategic military cooperation with Turkey and Georgia and seeks for the support of regional countries in settlement of the Armenian-Azerbaijani Nagorno-Karabakh conflict.
The parties also touched upon the forthcoming meeting of the Chiefs of Staff of the three countries, to be held in Tbilisi this April.
In recent years, Azerbaijan, Turkey and Georgia's relations reached the level of strategic partnership and play the key role in ensuring peace and stability, sustainable development and the welfare of the three nations.
Although all three countries have different interests in foreign policy, the security issues of natural gas pipelines, borders security, and terrorism threat are the common concerns of three countries.
The trilateral alliance of Azerbaijan – Turkey – Georgia emerged in 2007 during the official visit of President Ilham Aliyev to Georgia. Following the trilateral meeting with then – prime minister of Turkey Recep Tayyip Erdogan in 2012, the so-called Trabzon declaration was signed, and further, the trilateral dialogue was strengthened by the adoption of Ganja declaration in 2014.
The turning point for trilateral cooperation became the meeting held in Nakhchivan in 2014 when all countries signed an agreement for future cooperation and agreed to hold meetings in the same format twice a year. Following the agreement in 2014 and 2015, joint military drills Caucasian Eagle with the involvement of 80 military helicopters, 60 armored vehicles, and military staff were conducted.
The last meeting of the three countries' defense ministers was held in Gabala on May 15, 2016. The meeting discussed security issues and mutual interests for cooperation in the military field.
--

Follow us on Twitter @AzerNewsAz
Related News