24 April 2013 12:45 (UTC+04:00)
1 142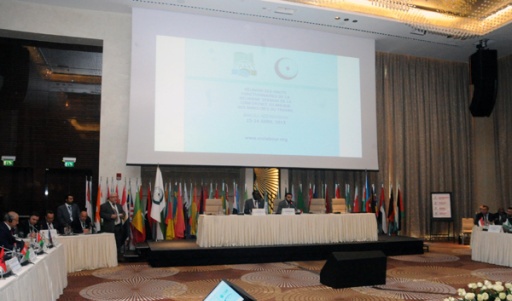 By Nigar Orujova
Nakhchivan, the central city of Azerbaijan's Nakhchivan Autonomous Republic, will become the capital of Islamic culture in 2018, Labor and Social Protection Minister Fizuli Alakbarov said at a meeting of labor ministry representatives of the Organization of Islamic Cooperation (OIC) in Baku on Tuesday.
A ministerial conference of the OIC countries will be held in the Azerbaijani capital on April 25-26.
"Holding of the conference is evidence of active support which the Organization of Islamic Cooperationlends to solve poverty problems in the OIC countries and to provide social stability for conducting an active policy in this sphere," the minister said.
The conference creates opportunities to establish a mechanism of the OIC countries' cooperation. Approval of a framework document, a resolution and the Baku declaration in conclusion of the conference is official confirmation of the creation of such a mechanism, according to Alakbarov.
Baku was the Capital of Islamic Culture in 2009. The announcement of Baku as the Islamic capital was a significant event for Azerbaijan. Some 4 million manats (over $5 million) had been allocated from the state budget to organize the Year of Culture.
Nakhchivan is one of the most ancient cities of Azerbaijan and an ancient cultural center of the world. Archeological research conducted in the territory has revealed samples of material culture dating back to the 2nd and 1st millennia B.C.E.
The region abounds with historical monuments, including ancient Gamigaya, Farhad house, Ajhabi-Kahf, Yusuf ibn Kuseyr tomb, Momina Khatun tomb, Tomb of the Gulistan, Khanagah tomb, Qazanchi bridge, Nakhchivan Juma Mosque, and Qesariyya monument.
Momina Khatun Tomb is one of the most well-known; it is a grand monument of the national architecture of Azerbaijan and a pearl of Oriental architecture, which was built in 1186.
Nakhchivan Juma Mosque, an architectural monument of the Middle Ages, is another significant architectural site.
The origin of the word "Nakhchivan" has a variety of explanations. According to the folk etymology and historical sources, the word means "adornment of the world". Another origin is related to the prophet Noah, meaning "the land of Noah". The tomb of Noah is situated in Nakhchivan.
Related News