Azerbaijan, Argentina to cooperate in outer space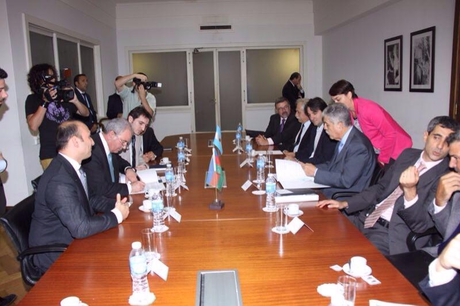 By Nigar Orujova
Azerbaijan and Argentina have signed an agreement on the use of outer space for peaceful purposes.
The document was inked by Azerbaijan's Communication and High Technologies Minister Ali Abbasov, who was on visit to Argentina, and Argentinean Minister of Science, Technology and Innovation Lino Baranao.
The agreement is aimed at creating a legal framework for bilateral cooperation in the exploration and use of outer space for peaceful purposes, including space-based communications, researches, and training.
"Argentina is interested to take part in the projects in the field of satellite communications implemented in Azerbaijan.
"Issues regarding what exactly Azerbaijan can offer to Argentina in the space industry, and how it might interest Azerbaijan will be discussed in future as the signed document will be the basis for future cooperation between the two countries in this field," the Azerbaijan's HCT ministry said.
Baranao praised the Azerbaijani government's attention to development of high technologies. He said Argentina was interested in cooperation with Azerbaijan in manufacturing knowledge-based economic products and proposed launching joint high technology enterprises.
Moreover, the two countries have reached agreement to organize the first Azerbaijan-Argentina high technologies forum as part of Bakutel exhibition in this December.
Abbasov has also met management of INVAP S.E., Argentinean leading high technology company, which laid out its strategy of action in Azerbaijan.
Earlier, INVAP S.E. has proposed Azerbaijani space agency Azercosmos to cooperate in the sphere of space industry.
During the visit, Abbasov met with president of Argentina's National Space Activities Commission. Abbasov was informed on the commission's activities to develop technologies for the peaceful use of outer space.
Moreover, Abbasov visited headquarters of State telecommunications company ARSAT, which expressed interest in building cooperation with Azercosmos.
Azerbaijan became a permanent member of the Scientific and Technical Subcommittee of the UN Committee on the Peaceful Uses of Outer Space (COPUOS - Committee on the Peaceful Uses of Outer Space) in January 2012. Prior to that Azerbaijan had an observer status in COPUOS.
Azerbaijan has started its space history by launching the first telecommunications satellite Azerspace-1 on February 8, 2013.
The satellite was designed to make a digital TV, data transmission services, setting up multi-service VSAT networks and to ensure government communications, covering Eastern Europe, the Caucasus, Central Asia and North Africa.
The second telecommunication satellite Azerspace-2 is planned to be launched in 2017.