Caspian Energy Investment Forum Riga 2023 takes place in Latvia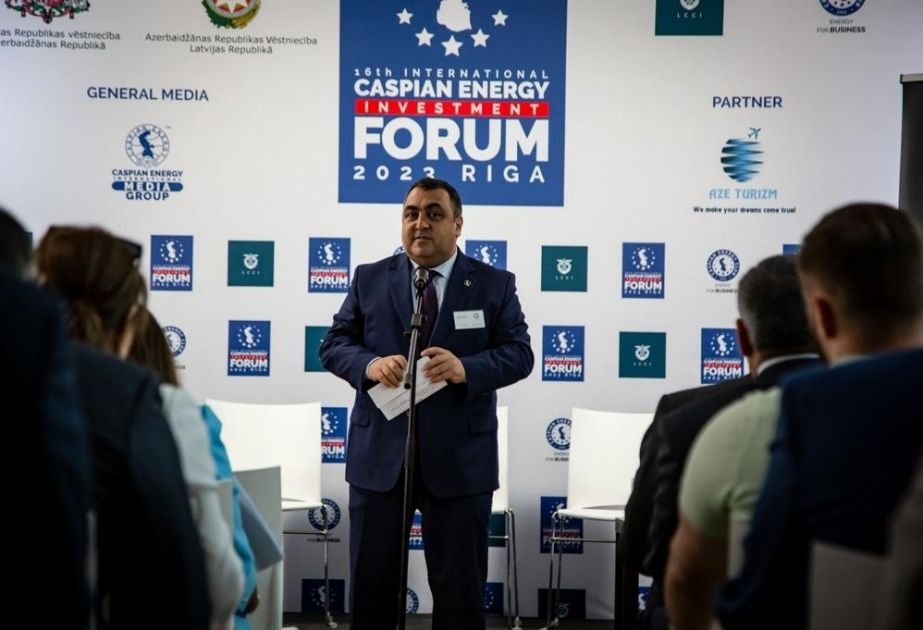 Co-organized by Caspian Energy Club and the Latvian Chamber of Commerce and Industry, the 16th international Caspian Energy Investment Forum Riga 2023 has been held, Azernews reports.
The Forum was held in the framework of activities planned to be conducted in 20 countries on the occasion of the 100th anniversary of National Leader of Azerbaijan Heydar Aliyev, said Chairman of the Board and Group CEO of Caspian Energy Club Telman Aliyev.
Participating in the forum were representatives of relevant government agencies of Latvia, as well as top-managers of public and private companies.
The purpose of the forum was to develop bilateral economic relations between Latvia and Azerbaijan, arrange B2B networking on the international level for further addressing of professional tasks, as well as to highlight opportunities provided for foreign entrepreneurs and investors.
The forum focused on discussion of the business climate in Latvia and Azerbaijan, 'LEF network' (Latvia, Estonia, Finland) project, expansion of the Latvian-Azerbaijani business relations and cooperation in different sectors of the economy.
Delivering an opening speech at the forum, Ambassador of the Republic of Azerbaijan to Latvia Elnur Sultanov spoke about high rates of bilateral relationship development between Azerbaijan and Latvia.
He also reminded about the Joint Declaration on the establishment of strategic partnership that Azerbaijan and Latvia signed in 2017, and said: "Today Latvia ranks among Azerbaijan's nine strategic partners from the EU member states."
Elnur Sultanov informed the event participants about high-speed economic development of Azerbaijan and successful diversification of the country's economy. He emphasized the potential for expanding trade-economic relations between Azerbaijan and Latvia, and made his suggestions in that regard. Elnur Sultanov expressed his strong confidence that the Azerbaijani business delegation's visit to Latvia would give a fresh impetus to mutual trade-economic cooperation.
Chairman of the Board and Group CEO of Caspian Energy Club Telman Aliyev spoke about the Club's activity and noted that this was Caspian Energy Club delegation's third visit to Latvia. Addressing the event, Telman Aliyev expressed gratitude to the Embassy of Azerbaijan in Latvia, Embassy of Latvia in Azerbaijan and the management team of the Latvian Chamber of Commerce and Industry.
Chairman of the Board of Caspian Energy Türkiye Suleyman Majidli acted as a moderator of the panel sessions. Presentations in the course of the sessions were made by Katrīna Zariņa, Member of the Board of the Latvian Chamber of Commerce and Industry, Ģirts Jaunzems, Director of Foreign Trade and Foreign Economic Relations Promotion Department under the Ministry of Foreign Affairs of Latvia, Shabnam Allahverdiyeva, Adviser to the Acting Executive Director of the Export and Investment Promotion Agency of the Republic of Azerbaijan – AZPROMO, Deniss Čamovs, Senior Investment Advisor of the Latvian Investment and Development Agency, Līga Sičeva, Head of the EU project department at the Latvian Chamber of Commerce and Industry, and Anna Mammadova, CEO of AZE Turizm.
The Forum continued with bilateral discussions between representatives of business structures of both countries, which resulted in reaching cooperation agreements. It is noteworthy that such forums have been previously held in Tbilisi, Prague, Istanbul, and Tashkent.
In the framework of the official visit, Caspian Energy Club's delegation plans to make business tours to enterprises located in Riga, Jelgava and Valmiera cities.
Established in June 2002, Caspian Energy Club brings together over 5,000 companies and organizations across 50 countries. As an active participant of the business-to-government dialogue, the major objective of Caspian Energy Club is to improve investment and business climate in Azerbaijan and in other countries where the Club operates, as well as to encourage and actively engage in B2G, B2B and B2C dialogues.
Headquartered in Baku, Caspian Energy Club is an international business networking platform regularly conducting different events. Caspian Energy Club has representative offices operating in Türkiye, Georgia, Uzbekistan, Kazakhstan, UAE, Israel, Germany, Poland, Slovakia, and Czechia, as well as authorized representatives around the globe.
---
Follow us on Twitter @AzerNewsAz