6 July 2015 14:39 (UTC+04:00)
1 257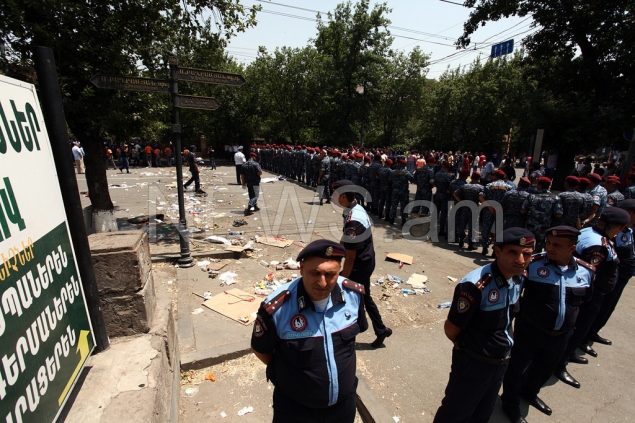 By Laman Sadigova
The situation is heating up on Baghramian Avenue in Yerevan. Some 40-50 activists have been detained during a crackdown on demonstrations in Yerevan, protest leader Maxim Sargsyan told RIA Novosti.
The police and municipal representatives removed the barricades of garbage bins across Baghramyan Avenue. However, protesters are standing firmly along the avenue and will not allow traffic to flow through one of the city's busiest streets.
Despite the government's promises to keep their actions peaceful, eyewitnesses tell the opposite.
Deputy Chief of the Armenian Police Hunan Poghosyan stated, "We have to try and urge people not to interfere. We hope for understanding. Special devices and the power will not be applied, and I asked the same guarantees from the protesters. However, we did not receive any. The police will not use any special equipment; we will just move by holding each other's hands."
However, the police have begun to arrest a number of protesters.
The Commission on Regulation of Public Services in Armenia in its June 17 meeting approved a decision to increase electricity tariffs by 6.93 Armenian drams (about $0.015). As a result, starting on August 1 consumers would have been required to pay 48.78 drams instead of the current 41.85 per 1 kWh per day.
---
Follow Laman Sadigova on Twitter: @s_laman93
Follow us on Twitter @AzerNewsAz
Category News