Diaspora warns of new wave of attacks on Armenian authorities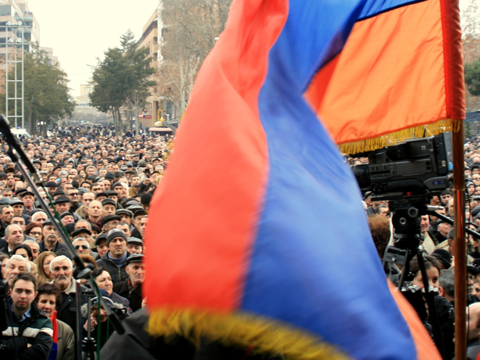 By Mushvig Mehdiyev
The Armenian diaspora warned the authorities of fresh attacks against the state as anger has risen in Yerevan in the wake of the government's violent crackdown against the political opposition.
Armenian diaspora organization in France booed the regime, accusing it of being at the core of Armenia's problems.
Shant Voskerchyan, representative of the Armenian Renaissance movement's Paris office, told the Armenian media that the members of diaspora reject such a government.
"We discuss everything in modern Armenia from the economy to the army. We don't want the incumbent regime. I think over 90 percent of the Armenian population wants to get rid of the regime," he said.
Voskerchyan added that the emptied shoes of President Serzh Sargsyan will not remain empty, as the wise people in opposition have already developed a necessary strategy.
Touching upon the recent arrests of certain members of the opposition group - the Founding Parliament, who planned to achieve a power change in Armenia, he noted that it was expected the government to neutralize them as it did anyway.
"Despite the fact we are a bit disappointed with the arrests, Liberty Square will host a rally on April 24 and then we will hold a march in Erebuni, in the outskirts of Yerevan," Voskerchyan said.
He further said they would announce the name of the man who will replace the ousted president.
As the result of a sudden and reckless crackdown, police in Yerevan handcuffed seven members of the Founding Parliament. They were all later on charged with planning to hold mass disturbances on April 24. However, their supporters vowed to pursue their ultimate goal - regime change - on the day of the so-called "Armenian genocide" celebrations.
"On April 19, in front of the Paris church, we informed the people about developments in Armenia. It is expected that should the government fail to release all political detainees by April 25 and 26, the diaspora will take more decisive actions. We will wait for decisions on April 25 and 26. If they remain in jail, we will attack the authorities," Voskerchyan.
The recent political atmosphere in Armenia is focused mainly on an expected clash between the Founding Parliament supporters and the country's rulers. The FP devotees promised to create "a state of new quality" in Armenia as soon as they dethrone the regime.
At a time when Yerevan prepares to host the centennial celebrations of the fictional "Armenian genocide" with the participation of foreign guests on April 24, the state is afraid clashes will ensue.
- - -
Follow Mushvig Mehdiyev on Twitter: @Mushviggo
Follow us on Twitter: @Azernews