Fourth Chovgan Azerbaijan Championship' winners announced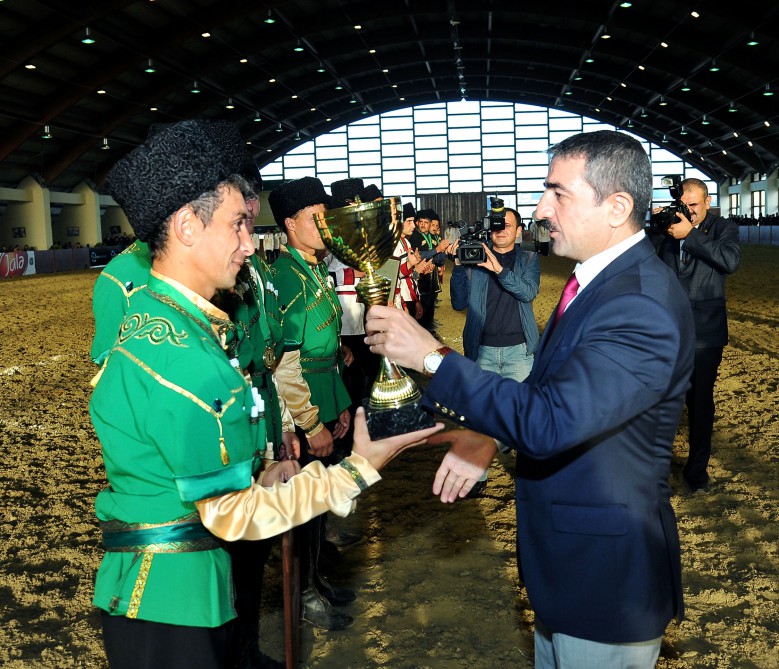 By Amina Nazarli
The Fourth Chovgan Azerbaijan Championship came to end in Baku's Bina Equestrian Center on October 24.

Aimed at developing this ancient game and promoting it among the people, the event brought together 24 teams from the country's various regions.
The semifinals were held between the "Polad" and "Garabakh" teams, where the latter was defeated with a score of four to one, thus reaching the final.

Another finalist was "Sarhadchi," which beat "Agstafa" with a score of 8:0.
On the final day, the "Agstafa" and "Garabakh" teams, competing for third place, entered the field first.

In the tense game, "Agstafa" took the victory and became the bronze medalist of the competition.

In the deciding game, Sarhadchi won brilliant victory over Polad and took the gold, defeating its rival with a score of 4:2.

Sarhadchi's team included Rauf Tahirov, Rashad Hasanov, Sanir Pirimov, Elchin Camalli and Tarlan Gurbanaliyev.
The winners were awarded by President of the National Equestrian Federation Elchin Guliyev.
The total prize for the competition was 50,000 manats (about $48,000).
Chovgan dates back to the middle of the first millennium A.D. as a team game. It has been very popular for centuries both in Azerbaijan and Central Asia. Fragments of the game were portrayed from time to time in ancient miniatures and detailed descriptions, and rules of the game were also reflected in ancient manuscripts.
The game is the original form of polo, dating back thousands of years. It is still played in Azerbaijan. It is worth noting that this ancient game has been included in the List of Intangible Cultural Heritage of UNESCO during the 8th Session of the UNESCO Intergovernmental Committee for the Safeguarding of the Intangible Cultural Heritage, which was held in Baku in 2014.
--
Amina Nazarli is AzerNews' staff journalist, follow her on Twitter: @amina_nazarli

Follow us on Twitter @AzerNewsAz