9 June 2014 16:05 (UTC+04:00)
761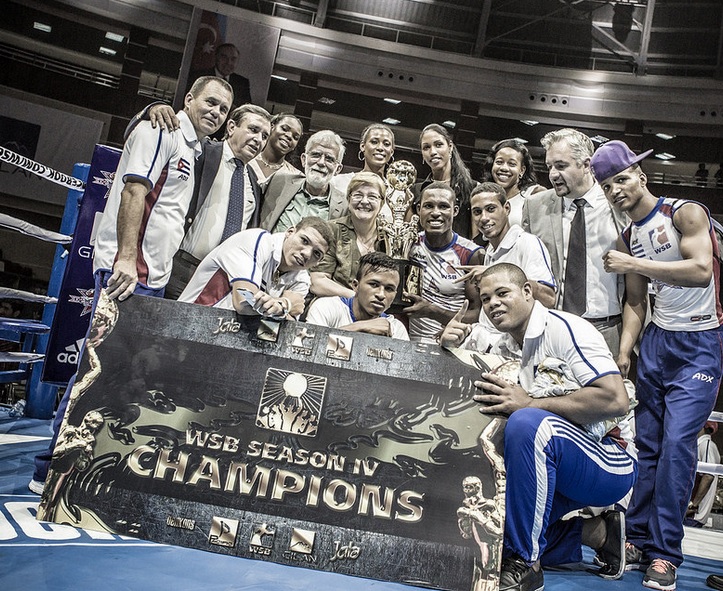 By Nazrin Gadimova
The two-day World Series of Boxing (WSB) Season IV Finals, finished up with the victory of the Cuba Domadores team in Baku on June 7.
Both matches were streamed worldwide via aibaboxingtv.com.
The first stage of the World Series of Boxing (WSB) Season IV Finals between Azerbaijan Baku Fires team and Cuba Domadores ended with the Cubans' victory with the score of 3-2.
Azerbaijan Baku Fires had an excellent home record all season. It faced Cuba Domadores team which had only lost one match in their debut season.
The light flyweights (46-49 kilograms), bantamweights (56 kg), light welterweights (64 kg), middleweights (75 kg) and heavyweights (91 kg) contested this match.
Prior to the event, WSB post-Season IV Franchise was organized to provide each of the future 15 WSB Franchises with an overall evaluation of Season IV, and to discuss detailed plans and clear objectives for the upcoming Season V.
"The WSB program has significantly improved and expanded throughout these four seasons, and the great support from all Franchises and participating National Federations in this continuous development have been the keys to this success," Ching-Kuo Wu, the AIBA President and the WSB Board Chairman said at the conference.
WSB accepted Azerbaijani Baku Fires team's offer to host the event in Baku after the Ukraine cancelled plans to stage the event due to current tense situation in the country.
Ching-Kuo Wu said earlier, WSB is very pleased that it has found a host city at last minutes after Ukraine withdrew from hosting the event.
"Baku has already hosted several AIBA and WSB competitions and we are confident with the Azeri's franchise's ability to successfully organize and manage this important event," he said.
"We sincerely appreciate Azerbaijani Baku Fires for supporting us in such a difficult situation and we are looking forward to two exciting nights of world-class boxing," he said.
The World Series of Boxing, one of the most exciting emerging sports leagues in the world, brings together the best boxers on the planet to compete in a team format across ten weight categories.
Developed by the International Boxing Association (AIBA), the WSB is a unique concept, as it is the first ever pro-style competition where boxers retain their Olympic eligibility and moreover, the first event which sees national-based pro boxing teams go head in a league format.
Related News