Azerbaijan successful at 3rd Islamic Games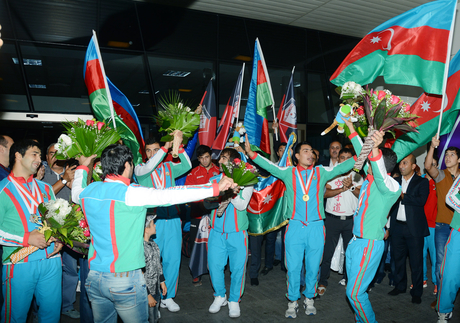 By Nigar Orujova
Azerbaijani athletes returned home with 24 medals won at the third Islamic Solidarity Games, held in Palembang, Indonesia, on September 22 to October 2.
The athletes were welcomed by representatives of the Ministry of Youth and Sport, as well as fans at the Heydar Aliyev International Airport.
The national team of 54 athletes finished the Games as the seventh, with seven gold, eight silver and nine bronze medals.
The first places at the games were taken by national teams from Indonesia, Iran and Egypt.
Azerbaijan was represented in nine disciplines, including athletics, weightlifting, karate, taekwondo, badminton, tennis, archery, swimming, and wushu. Azerbaijan won gold in athletics, karate and swimming.
The first medals were brought to the national team by karate fighters, when Aykhan Mamayev, who is vying in the 84 kg weight bracket, claimed the first gold medal at the Games on September 23.
Another gold medal was won by karate fighter Rafael Agayev, weighing around 75 kg. One gold medal for karate was won by Azerbaijani karate fighters in team competition.
Two silver medals were also won by Niyazi Aliyev, weighing around 67 kg, and Shahin Atamov, competing in the 75 kg weight category.
Two gold medals were gained by runner Haile Ibrahimov finished first in the men's 5,000m race, and Ekaterina Sarieva crowned the winner in the women's triple jump.
According to Ibrahimov, Islamic Games were very successful for Azerbaijani sportsmen.
"This is important because in 2017 the Islamic Games will be held in Baku. I cannot say that I won the gold medal easily. Everyone wanted to win. However, I was stronger than my rivals," he said.
The next fourth Islamic Solidarity Games will be held in Azerbaijan from June 23 to July 2, 2017. The Games will bring together athletes from 57 countries and will be held under the slogan "Solidarity is our power".
Moreover, Azerbaijani female runner Layesh Abdullayeva became third in the women's 5,000m race.
Hammer thrower Dmitry Marshin also add a bronze medal to the national team.
Azerbaijani archery team, which includes Roman Vengerov, Aleksey Korpin and Zaur Gahramanov, won silver.
Swimming brought all three medals to the national team, with gold medal won by Boris Kirillov in men's 200m backstroke, while silver medal was gained by Evgeniz Lazuka in men's 50m in butterfly stroke, Lazuka also won bronze in 100m butterfly stroke.
Taekwondo fighters also gained several medals. Azerbaijani fighters won one silver and three bronze medals, Gunay Agakishiyeva weighing in at 57 kg gained silver, while Turkana Tahirli, Mikayil Aliyev and Patimat Abakarova won bronzes in the 57 kg, 46 kg and 54 kg divisions.
Three Azerbaijani weightlifters won silver, including Afgan Bayramov in the 77 kg category, Intigam Zairov weighing around 94 kg, and Silviya Angelova in up to 48 kg category.
Weightlifter Namig Jalilov, vying in the 85 kg category, and Zulfugar Suleymanov, in the 62 kg category, claimed two bronze medals.
Wushu fighters could won two medals, Ruslan Piraliyev weighing in at 65 kg won gold, while Elchin Eminov at 56 kg claimed bronze.
The Islamic Solidarity Games is a multinational, multi-sport event involving the elite athletes of the Organization of the Islamic Cooperation (OIC), which is the second largest inter-governmental organization after the UN.