Kazakhstan, Turkmenistan and Iran agree on single railway tariff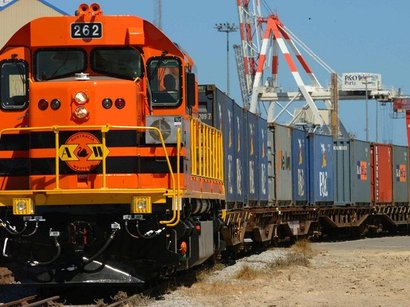 By Vusala Abbasova
Iran, Turkmenistan and Kazakhstan have agreed on single railway tariff for transit commodities through the railway line from China to Iran, which will attract attention to the land transcontinental corridors for the cargo transportation as alternative route to the marine transport.
The implementation of these measures was discussed at the recent trilateral meeting with participation of representatives of railway authorities of Iran, Turkmenistan and Kazakhstan in Teheran.
Under the agreement, the single tariff will be applied for the new Uzen - Bolashak - Serhetyaka - Akyayla - Indzheburun international railway line from October 15, 2015.
Furthermore, the sides discussed the concessional tariff conditions for transporting such goods as seeds, ferrous metals, aluminum and ferroalloys from Kazakhstan through Iran to the Iranian port Bandar Abbas.
The preferential tariff conditions are expected to help Kazakhstan's export to develop new markets in India and the Gulf countries.
The sides agreed to discuss the possibilities of setting the single complex rates on their territories by 2016 at the next trilateral meeting in Ashgabat in the second part of December of 2015.
All three countries are interested in reducing the transport tariffs with a view to increase the competitiveness of the Iran-Turkmenistan-Kazakhstan railway and attract additional transit and export cargos.
The Iran-Turkmenistan-Kazakhstan railway as one of the important economic projects of the Economic Cooperation Organization was inaugurated in 2014, providing opportunity to connect the east of Caspian Sea to both the west of the sea and the Persian Gulf.
---
Follow us on Twitter @AzerNewsAz