Uzbekistan seeks to upgrade land reclamation facilities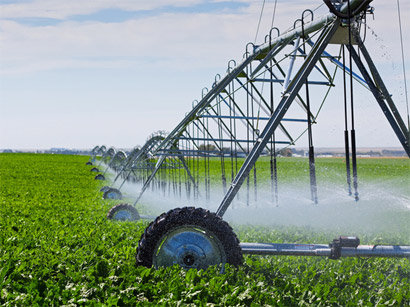 By Vusala Abbasova
Uzbekistan is carrying out 149 projects to upgrade land reclamation facilities and build new ones this year, including 106 new and 43 rolling objects.
These measures are needed for the intensive development of agriculture in the country, and therefore, special attention is being paid to improving land and water resources, which yields stronger results.
It is planned to spend as much as 146.6 billion soms (over $55 million) on the construction and reconstruction of the reclamation facilities, including a 760.6 km opened and a 283.1 km closed collector and drainage systems, 6 reclamation pumping stations, 69 units of vertical drainage wells, 44 units of hydraulic structures, 2.7 km of inspection roads and 1,081 units of reclamation and observation wells.
The renovation and construction of a 644.1 km drainage network is 7 percent ahead of schedule. Seventy units of vertical drainage wells, 672 units of monitoring wells, 17 units of hydraulic structures and 180.9 km of closed collector and drainage systems have already been constructed and/or renovated.
Generally, investments in the construction and reconstruction of facilities amounted to 107.6 billion soms (over $40 million), including construction and installation work for these facilities in amount of 95.5 billion soms (over $36 million). These figures demonstrate a growth of 35 percent compared with the past year.
Total investments in the construction and reconstruction of reclamation facilities are financed in the amount of 89.7 billion soms (over $33 million).
Over 475 pieces of equipment and 1180 workers were drawn in for this initiative.
The development of farming is among the top priorities of the country, as Uzbekistan has become a major exporter of high quality fruit and vegetable products in recent years. Currently, there are 67,804 farms in the country.
Special attention is paid to processing and storage in order to ensure year-round supply. Over the past 10 years, the processing of vegetables and grapes has increased 3.5 times, including the growth rate of canned fruits and vegetables by 2.5 times, dried fruits by 4 times, natural juices by 7 times.
To further improve the reclamation and irrigation infrastructure, the state program on the improvement of irrigated land and the rational use of water resources for the period of 2013-2017 has been established with more than $1.2 billion allocated for its implementation.
As much as 1771 km of drainage systems have been built and reconstructed in 2013-2014 within the program. Moreover, 360 units of reclamation equipment were purchased. In addition, the reclamation of irrigated lands in an area of over 1.7 million hectares was improved.
Special attention has been paid to the development of water-saving irrigation technologies. Therefore, in recent years, 16.3 hectares of land was provided with drip irrigation, increasing by 5 hectares per year.
Land users and farmers will be provided with preferential long-term loans for the implementation of drip irrigation systems over 25 hectares in the 2013-2017 period.
Farmer unions, which use water-saving technologies in their activities, are exempted from the land payment and other types of taxes for 5 years.
---
Follow us on Twitter @AzerNewsAz