26 September 2013 11:38 (UTC+04:00)
1 286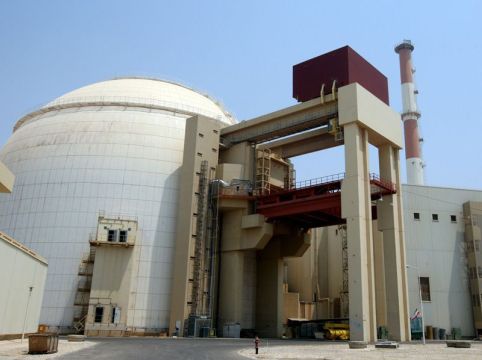 By Sara Rajabova
Bushehr nuclear power plant will play an important role in the country's electricity generation, Iran's Energy Minister Hamid Chitchian said at the sidelines of Bushehr NPP takeover ceremony, IRNA News Agency reported.
He said the power plant annually saves some $2 billion worth of fossil fuels.
According to Chitchian, by boosting Bushehr NPP, more drinking water can be produced which is gift for a dry country like Iran.
He went on to note that in 2.5 years the country would save enough money by operating nuclear plant to cover the plant's construction costs.
Iran officially took over the temporary control of the first unit of its Bushehr nuclear power plant from Russia for two years on September 23.
Under a protocol, the number of Russian contractors is decreased after the takeover, but they will continue offering services during the two-year guarantee period.
Head of the Atomic Energy Organisation of Iran (AEOI), Ali Akbar Salehi said that the nuclear plant has been in operation for 14 days before being handed over to Iran.
"During the period, the plant worked at 90 percent of its nominal capacity, i.e. 900 megawatts," he added.
He further said that the second unit of the nuclear plant will be constructed in the near future.
According to Salehi, the nuclear power plant is the safest in the world. He reassured Iran's neighbors over the safety of the plant, saying Tehran is ready to answer any questions in this regard.
He also added that Iran attained this achievement despite the sanctions imposed on country.
Previously, Salehi said that Bushehr nuclear power plant built by Russia is the most exceptional one in the world.
He said that 30-40 percent of the reactor's equipment is European, while 60-70 percent is Russian - a combination that made the reactor the most exceptional in the world.
The initial construction of the Bushehr nuclear power plant began in 1975 by German companies, but the work was halted following the 1979 Islamic Revolution.
Iran and Russia signed an agreement in 1995 to repair and complete the 1,000 megawatt reactor.
Bushehr nuclear power plant officially became operational in September 2011, generating electricity at 40 percent of its capacity, but it has been shut down several times due to 'technical problems and the need for more tests'.
The plant, which is operating under the full supervision of the IAEA, reached its maximum power generation capacity in August 2012.
Iran and Russia have assured the international community that the plant is fully compliant with high-level safety standards and the International Atomic Energy Agency (IAEA) safeguards.
The U.S. and some of its Western allies suspect Iran of developing a nuclear weapon -- something that Iran denies. However, Iran has on numerous occasions stated that it is not seeking to develop nuclear weapons, using nuclear energy for medical researches instead.
Related News