Charlie Hebdo cartoon on Türkiye's quake disaster inhumane & callous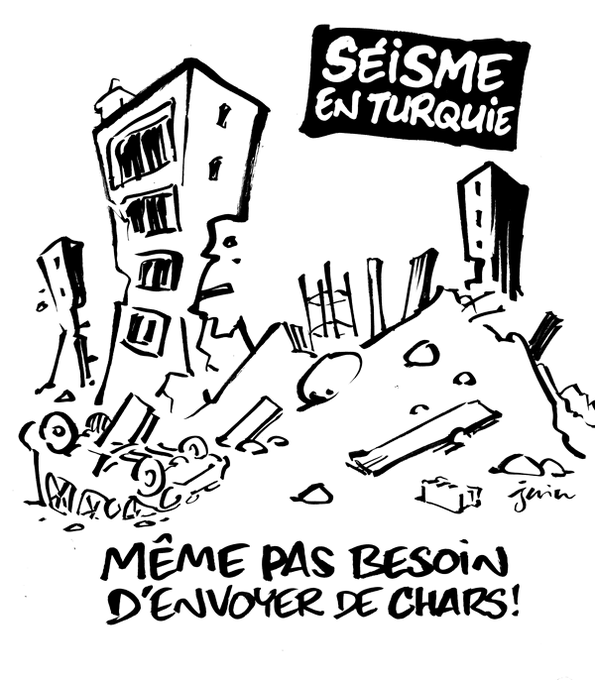 By Yusif Abbaszada
As seen by the latest 7.8 magnitude earthquake that hit Turkiye, no country in the world is immune to natural disasters. The situation is only aggravated by the uncharacteristically cruel winter, blocking access to rescue people trapped under the rubble.
Throughout the long and trusty history of bilateral ties, Turkiye has always stood by Azerbaijan despite possible risks and consequences. This time it was Azerbaijan's turn to live up to expectations by becoming the first nation to rush humanitarian aid to the disaster zone.
Remarkably, the aid collection campaign has been underway across the country with people from all walks of society driven by the desire to somehow help quake victims. People are contributing with what they can afford, striving to meet the expectations of people deprived of everything within seconds.
The collection point accepts humanitarian aid, ranging from warm clothes, personal hygiene products, household items to foodstuffs. People help with what they can and try to do it as quickly and smoothly as possible.
Azerbaijani bloggers and celebrities also joined the public campaign, by calling on their multi-million audience to raise funds and donations. It is remarkable that the general public is willing to provide any help without anyone's patronage but on their own accord.
Besides, all entertainment programs on Azerbaijani TV and radio channels were suspended, and their content has been changed to more restrained content in line with the tragedy triggered by the devastating quake. The Azerbaijani people do not do this for gratitude but as the obligation of a brother to a brother as our ancestors have been doing for centuries and unforgotten even after years of separations.
However, though the tragedy is not equally reacted to, some also reacted improperly to human suffering with their comments or social media posts. At this point, the French satirical magazine Charlie Hebdo has yet again proved to be inhumane. Yet again, the notorious magazine thought it smart to mock the tragedy faced by the people of Turkiye and Syria, which claimed thousands of lives, leaving hundreds of thousands of people injured, traumatized, or homeless.
It is likely that realizing what was done, French President Emmanuel Macron decided to rehabilitate himself in the face of the public so as not to be seen as a cynic.
"In the terrible ordeal Turkiye has been through, France stands together. Two search and rescue detachments are already on the scene. I told President Erdogan last night that we are ready to supplement our emergency aid according to priority needs," Macron tweeted.
It seems that in France, the president's words have no respect or weight if even after this publication the scandalous magazine continues to ridicule the death of civilians.
It is not clear what kind of reaction the magazine is trying to achieve and what kind of inhumane readers this circulation is intended for. Cynicism in relation to the feelings of believers and laughter at someone else's grief for France seems to be something ordinary.
---
Follow us on Twitter @AzerNewsAz