FM Cavusoglu holds phone call with NATO chief Stoltenberg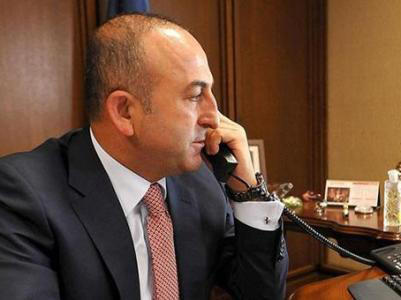 By Trend
Foreign Minister Mevlut Cavushoglu hold a phone call with NATO Secretary General Jens Stoltenberg, diplomatic sources said Friday, DailySabah reported.
The NATO chief previously urged Turkey and the United States to "sit down and find solutions" to the ongoing visa crisis between the two counties.
"I only urge the United States and Turkey to sit down and find solutions because it is important for the alliance that we are able to work closely together, especially in that region, because Turkey is a key for our fight against terrorism," Stoltenberg told AFP in an interview.
"We are always ready to help, but I know there are direct contacts so I am certain Turkey and the United States are talking to each other directly and addressing some of this disputes," Stoltenberg added.
The U.S. Embassy in Ankara said last Sunday that all non-immigrant visa services in its diplomatic facilities in Turkey were suspended after the arrest of one of its employees over alleged ties to the Gülenist Terror Group (FETO), which orchestrated last year's failed coup attempt.
Hours after the U.S. decision, Ankara said it had also halted processing visa applications from the U.S. The move, announced online by the Turkish Embassy in Washington, applies to visas in passports, electronic visas and visas at the borders, and is also effective immediately.
Metin Topuz, a Turkish employee who has worked in the U.S. Consulate in Istanbul since 1982, was arrested on charges of espionage and links to FETO.
According to his indictment, the suspect was in contact with a number of former police chiefs in Istanbul where he worked, and all those police chiefs involved in the 2013 coup attempts were FETO members in the judiciary and law enforcement.
He was also in touch with Oktay Akkaya, a former lieutenant colonel who was among the main actors in the 2016 coup attempt.
---
Follow us on Twitter @AzerNewsAz