Kashagan oil can reach EU via Azerbaijan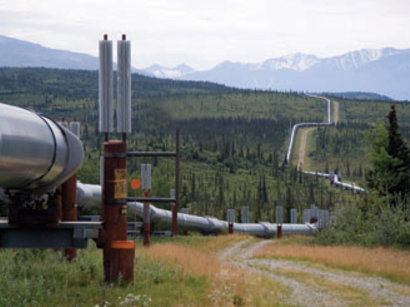 By Gulgiz Dadashova
Azerbaijan, which is engaged in realization of major oil and gas projects aimed to enhance the energy security of Europe, ready to transport the Kashagan oil to Europe.
Azerbaijan is ready to supply diesel fuel to Kazakhstan and to pump oil from Kazakhstan's Kashagan field to the European market, KazTAG reported on December 10 citing Azerbaijan's Ambassador to Kazakhstan Zakir Hashimov.
With recoverable oil reserves estimated at 13 billion barrels and natural gas reserves at over 1 trillion cubic meters, Kashagan field is believed to be the largest oil field in the world after Prudo Bay in Alaska.
Production at Kashagan started in September 2013 but halted in early October after the discovery of gas leaks in the $50 billion project's pipeline network.
Oil output at Kazakhstan's giant Kashagan field may not resume until early 2016, Kazakh Oil and Gas Minister Uzakbai Karabalin said earlier.
Hashimov further said Azerbaijan stands ready to provide its transit potential for friendly countries. "Kazakhstan also freely uses this route," he stated.
"We believe that after the Kashagan field's launch the volume of Kazakh oil transit via the Baku-Tbilisi-Ceyhan will increase," the ambassador said.
Noting that Azerbaijan is ready to pump this oil, the envoy said the BTC pipeline was meant to pump oil in the amount needed both by Kazakhstan and Azerbaijan.
Oil produced at the Kashagan field in Kazakhstan will be piped partially via the Baku-Tbilisi-Ceyhan pipeline, Azerbaijan's Minister of Energy Natig Aliyev said earlier.
He said Kazakhstan has confirmed the volume of oil produced at the Kashagan field will rise from an initially projected 23 million tons per year, to 50 million tons during the second stage of project development. "In this case, a portion of that oil will be exported westwards via Azerbaijan," Aliyev noted.
Tengizchevroil LLP, the consortium developing the Tengiz oil field of Kazakhstan, exports on average up to 5 million tons a year through Azerbaijan. The company resumed oil transportation via the Baku-Tbilisi-Ceyhan pipeline (BTC) in late 2013 after a five-year hiatus caused by a disagreement over the terms for transportation
The 1,768-km BTC pipeline became operational in June 2006. BTC's throughput capacity is currently 1.2 million barrels per day. The oil transported via BTC to world markets mainly comes from the Azeri-Chirag-Gunashli (ACG) and Shah Deniz fields. Also, crude oil from Turkmenistan continues to be transported via BTC.
In 2013, BTC exported about 247.2 million barrels of crude oil loaded on 329 tankers at Ceyhan.
---
Follow Gulgiz Dadashova on Twitter: @GulgizD
Follow us on Twitter @AzerNewsAz