Turkey, Azerbaijan, Georgia broaden military cooperation spectrum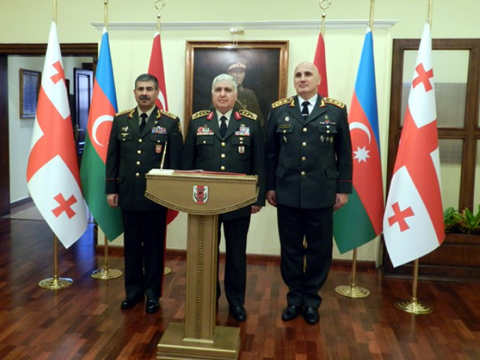 By Mushvig Mehdiyev
Regional neighbors -- Turkey, Azerbaijan and Georgia -- are actively working to strengthen and improve their trilateral military and defense ties. The same approach towards certain military issues paves way to more active cooperation among the three countries.
Ankara meeting of the heads of the armed forces of Turkey, Azerbaijan and Georgia has come as the next part of negotiations aimed at developing relations in between the armed forces in three countries.
Chief of the General Staff of the Turkish Armed Forces, Army General Necdet Ozel received Azerbaijani Defense Minister, Colonel General Zakir Hasanov and Chief of the General Staff of the Georgian Armed Forces, Major General Vakhtang Kapanadze in Ankara on May 4 to talk over recent and future prospects of cooperation in the field of military.
At a trilateral meeting the top brass focused mostly on the development of military cooperation, issues of regional safety, and in particular, the strengthening of practical arrangements for the realization of tasks aimed to provide stability and safety in the region, as well as regional power and railway projects.
The first meeting of the chiefs of staff concluded with the signing of a trilateral protocol clinching the decision to create Coordination Group in view of regulating the cooperation among armed forces of the three countries.
The group's key directives are to hold joint exercises, courses and trainings, to expand cooperation in the fields of military education and medicine, to exchange experience and to coordinate other issues of mutual interest.
The first initiative of military cooperation in between Turkey, Azerbaijan and Georgia emerged in 2013 and was followed by the first official meeting of the defense ministers on the sidelines of NATO Ministerial in Brussels, in June 2014.
Further meetings of the ministers in Azerbaijan's Nakhchivan in August 2014 and in Georgia's Tbilisi in April 2015 put forward the planning and execution of joint training exercises in view of protecting the region's strategic energy-transport infrastructure.
Military experts believe that both Azerbaijan and Georgia attach great importance to cooperation with Turkey, which is much more accomplished in the defense industry. Turkey's indigenous defense programs encompass the full spectrum of military operations and include major areas across land, air, sea and space.
The newly initiated cooperation among the three countries in the defense industry marks a new page in the partnership of neighboring countries.
- - -
Follow Mushvig Mehdiyev on Twitter: @Mushviggo
Follow us on Twitter: @Azernews