European Parliament's "Armenian genocide" sympathy not surprising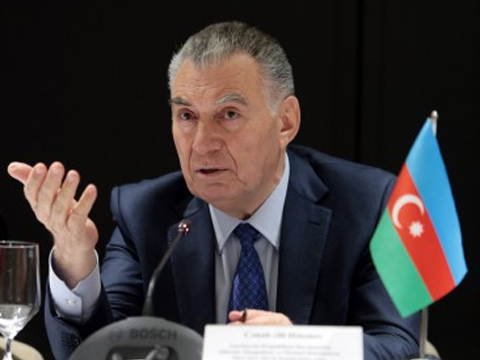 By Mushvig Mehdiyev
Baku expressed once more its disillusionment with the European Parliament's adoption of a resolution condemning the fallacious "Armenian genocide". Officials in Baku have lamented over the sheer degree of political hypocrisy and the unfair double standards which are being currently held by certain international institutions, namely the EP.
"The European Parliament's resolution on the fictional "Armenian genocide" is totally groundless," Deputy Prime Minister, Ali Hasanov said.

Hasanov said it was not surprising to see the EP support for a fallacious "genocide" that has factual grounding in neither reality nor history.
"Such a step taken by the EP is not surprising at all, since we once more witnessed double standards," he added.
"The adoption of such a biased resolution is a vivid manifestation of double standards, and it is not a new phenomenon indeed," Hasanov said.

Backing Ankara's claims, Baku also believes that the Armenian lobby exercised a great degree of pressure onto the European legislative organization urging it to back Yerevan's "genocide" allegations.
It is important for Azerbaijani and Turkish diasporas to team up against the deceitfulness of the Armenian diaspora, believes Hasanov.
"The strengthening our joint struggle against such actions from the Armenians is of high importance for Azerbaijani and Turkish diasporas," he said.
The European Parliament adopted a resolution on the centennial of the so-called "Armenian genocide" during its plenary session on April 15. It will reportedly boost Armenia and its patrons all over the world to press on their fallacious claims that Turkey committed a "genocide" against Armenians.
Turkey denounced the EP's biased decision in view of the 1915 events, dismissing the resolution's adoption as "senseless".
Ankara announced that it will ignore the resolution since the EP has no accreditation when it comes to judging history, especially without any hard facts to back its claims.
The Armenian authorities and diaspora claim that the predecessor of modern Turkey - the Ottoman Empire - carried out a "genocide" against Armenians in 1915 in Anatolia. They annually raise their voice, calling for the recognition of the unreal events of 1915, inviting the international community to unanimously blame Turkey for the actions of its predecessor.
As Armenia works to twist 1915 events and sell its "genocide" to the world, hoping every year to rewrite history to fits its delusions, its efforts backfired as more voices from across the globe have argued that Armenia did not indeed suffer a "genocide" and that, in fact, it faced no tougher time than other nations in the region.
- - -
Follow Mushvig Mehdiyev on Twitter: @Mushviggo
Follow us on Twitter: @Azernews