14 November 2014 13:05 (UTC+04:00)
1 958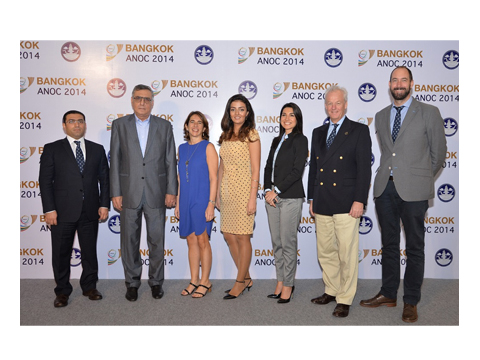 By Nigar Orujova
Executives from the Azerbaijani National Olympic Committee and Baku 2015 attended the XIX Association of National Olympic Committees (ANOC) General Assembly in Bangkok, Thailand to give an update on the progress being made towards delivering the inaugural European Games.
The event, held last weekend, involved representatives from the 204 National Olympic Committees (NOCs) around the world recognized by the International Olympic Committee.
Vice President Chingiz Huseynzade and Head of International Relations at the Azerbaijani NOC Konul Nurullayeva attended the event together with Baku 2015 Chief Operating Officer Simon Clegg and a team from Baku European Games Operations Committee (BEGOC).
Speaking at the ANOC General Assembly, Nurullayeva said: "Next year will see the proudest moment in Azerbaijan's sporting history to date when our nation hosts the inaugural European Games in the capital city, Baku."
"By the hard works of everyone at the National Olympic Committee of the Republic of Azerbaijan and our friends at Baku 2015, we will be ready to welcome the world next summer for what will be a celebration of friendship that will write a new chapter in the proud history of European sport," she said.
Clegg and the BEGOC team provided the presidents and secretary generals of the European NOCs with an update on European and global broadcasting arrangements for the European Games.
They also gave an update on progress made in holding the games, including the latest developments in the sports program and the successful hosting of the first three Baku 2015 test events.
"We have learnt a number of important lessons from the test events to date, and our team will continue to progress with many more early next year to ensure that all of the athletes receive the very best services and gain experience at the first ever European Games," Clegg said.
Based in Lausanne, Switzerland, ANOC was established in June 1979 and aims to consistently meet the needs of the 204 National Olympic Committees of the world for the benefit of the athletes and the entire Olympic Movement.
Baku will host the first European Games next summer from 12 – 28 June, involving more than 6,000 athletes from the National Olympic Committees of Europe across 17 days of competition, in what will be the largest sporting event in Azerbaijan's history.
Related News