Azerbaijanis in Sweden rally against Armenians' ceasefire violations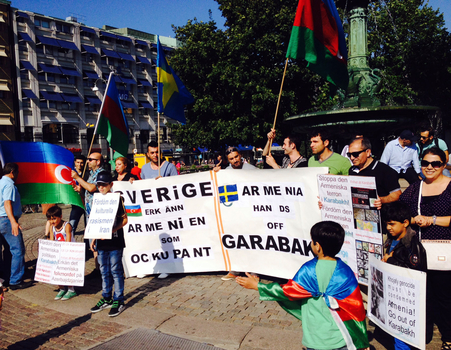 Azerbaijanis living in Sweden and representatives of the Turkish diaspora have held a protest rally in Göteborg against recent escalation of violence on the contact line and along the Armenian-Azerbaijani border, AzerTag state news agency reported.
The protesters condemned repeated attempts by the Armenians to sabotage the positions of the Azerbaijani armed forces, which resulted in the killing of Azerbaijani troops.
The protesters called on Sweden and international organizations to exert pressure on the Armenian leadership to force them to fulfill resolutions of the UN Security Council and PACE demanding an immediate and unconditional withdrawal of the Armenian armed forces from the occupied Azerbaijani lands and the return of refugees to their homelands.
Over 20 percent of Azerbaijan's internationally recognized territory, including Nagorno-Karabakh and seven adjacent regions, has been occupied by Armenian armed forces since a lengthy war between the two South Caucasus countries in the early 1990s. The UN Security Council has passed four resolutions calling for an Armenian pullout, but they have not been enforced to date.
Peace talks mediated by Russia, France and the U.S. have produced no results so far.