Carnegie Endowment hosts event on Azerbaijan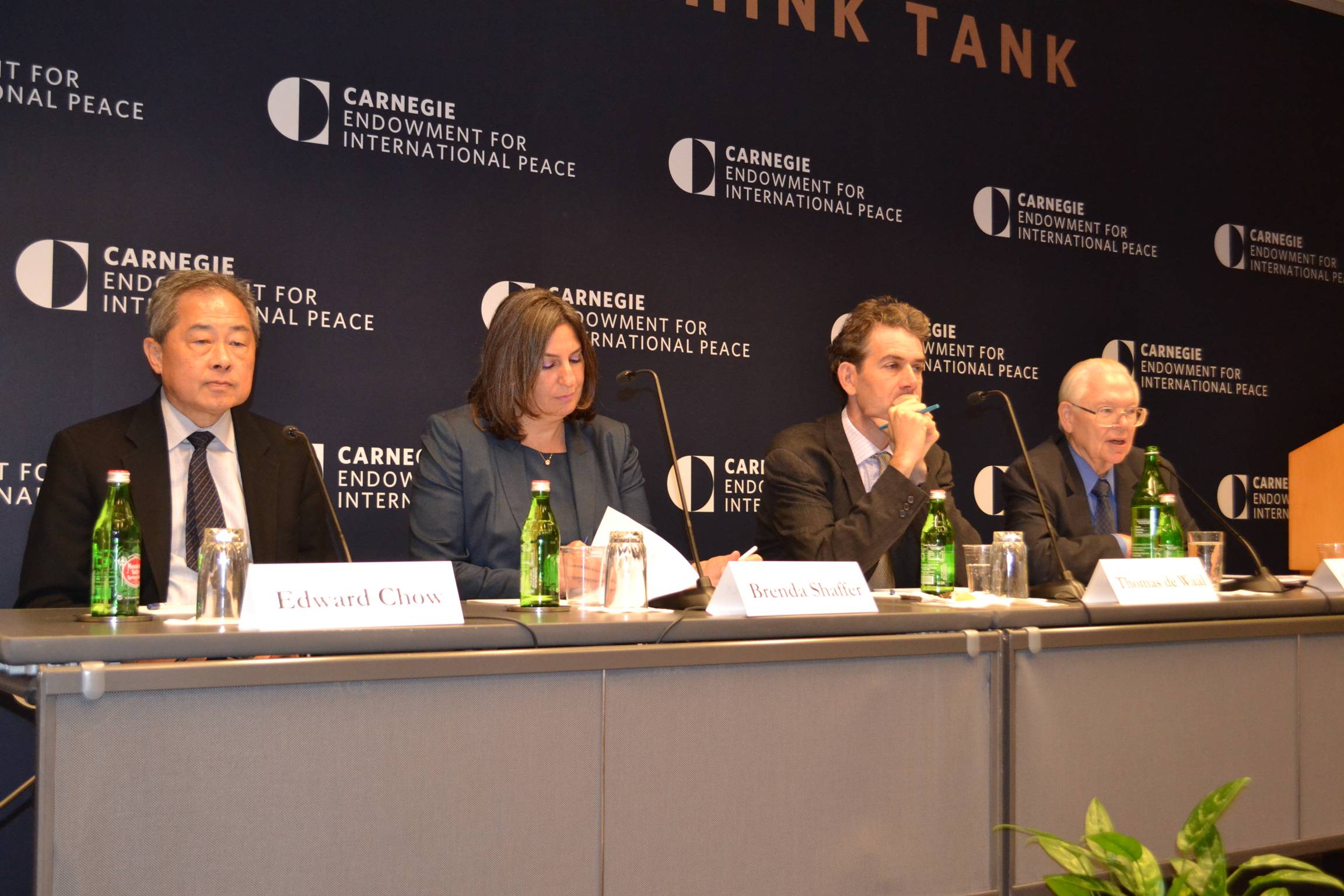 By Sara Rajabova
The Carnegie Endowment for International Peace in Washington hosted a roundtable on Azerbaijan's future on October 11, Azertag news agency reported.
The presidential election held in Azerbaijan last week, the country's development in the last ten years and projections for the next five years were discussed at the event.
A senior fellow of the Russia and Eurasia programs of Carnegie Endowment, Thomas de Waal, a researcher of the Georgetown University's Center for Eurasian, Russian and East European Studies, Brenda Shaffer, and a senior fellow of the Energy and National Security Program of the Center for Strategic and International Studies, Edward Chow, addressed the roundtable. The event was chaired by Director of the Russia and Eurasia program James Collins.
De Waal spoke about the development of the economy, issues and perspectives regarding the political life in Azerbaijan.
Touching upon the presidential elections, de Waal said that incumbent President Ilham Aliyev would have won the elections in any case thanks to the country's economic growth indicators over the past decade.
He said last time he visited the country its gross domestic product was $3 billion, but currently the figure is $70 billion.
According to de Waal, despite some problems cited in the statements of some of the organizations, he optimistically sees the democratization and future development of Azerbaijan.
Shaffer said in her remarks that she has discussed the October 9 presidential election as well as the positive and negative statements of the U.S. State Department, the PACE and OSCE.
The presidential election in Azerbaijan ended with an overwhelming victory of incumbent President Ilham Aliyev, who was nominated by the ruling New Azerbaijan Party. According to preliminary election tallies, Aliyev got 3,126,612 votes (84.55 percent).
Shaffer said the fact that the State Department issued a statement on the issue is indeed a good sign. First, this is because the United States approaches Azerbaijan with sensitivity; secondly, this in itself indicates the existence of an open society in Azerbaijan where information is absolutely available for all interested parties.
Speaking at the event, Chow spoke about the economic growth in the last decade and the dramatic changes that have taken place in Azerbaijan. He said that despite the obvious differences in the development of Baku and the regions, with regard to resource allocation, one can see a similar situation in the U.S. comparing the states of California and Louisiana.
Chow also spoke about the current energy projects, including the Southern Corridor, and noted the extensive development prospects of Azerbaijan and the region due to the projects initiated by the country.
Despite the provocative statements by representatives of the Armenian diaspora, representatives of the Azerbaijani embassy in the United States delivered due response to the unfounded claims of the critics.
The event was also attended by academics and representatives of the research centers of Washington, as well as those of the city's Azerbaijani community and students.