New Hospitality Business School opens in Baku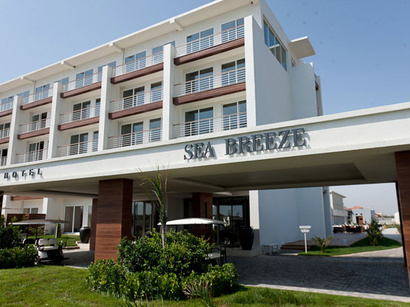 The Azerbaijan Tourism Association, AZTA, on Tuesday announced the opening of a new hotel management school, Hospitality Business School (HBS).
In Azerbaijan the HBS will be the first education program in English initially offering various professional certifications for line, supervisory and managerial levels of the hospitality industry. American Hotel and Lodging Educational Institute's (AHLEI) "Specialization Certifications", "Hospitality Management Diploma", "Dual Diploma" as well as the new high school curriculum, Hospitality and Tourism Management Program (HTMP) will be part of the academic concept of the HBS.
The AZTA signed a memorandum of agreement with the AHLEI in August 2011 and has already organized a first workshop on CHT (Certified Hospitality Trainer) in which the certified new trainers will work to train and certify line and supervisory employees to develop a quality workforce in the hospitality industry of Azerbaijan.
The AZTA has organized the first CHE (Certified Hospitality Educator) workshop for Azerbaijan Tourism Institute's (ATI) lecturers. This award-winning program is the only professional development opportunity designed for hospitality educators around the world and enables them to strengthen students' critical thinking and motivation to learn more.
The HBS will establish its first location within the grounds of a well-known Sea Breeze Residences & Hotel, a premium class villas and hotel property located in Nardaran, within 30 minutes driving from the center of Baku.
"We aspire to build our school as a leading regional provider of professional education in the hospitality field", says George Ubbelohde, CHA, CHE, CHT, the newly appointed Director of the HBS. "Our team is looking forward to educating industry professionals, students, enhancing their professional development, and connecting them with the many fine hospitality businesses in Azerbaijan."
The Azerbaijan Tourism Association (AZTA) was established in 2009 by the assistance of the Ministry of Culture and Tourism of Azerbaijan, and has been an affiliate member of the World Tourism Organization (UNWTO) since July 2011. Its overall goal is to develop the tourism sector in Azerbaijan and to create healthy, strong inbound and outbound tourism.
Established in 1953 as a nonprofit educational foundation of the American Hotel & Lodging Association, the Educational Institute's mission is to continue being the preferred provider to the lodging industry, hospitality schools and related hospitality industries by developing and providing quality resources to train, educate and certify hospitality professionals worldwide.