Azerbaijani President hosts Chechen leader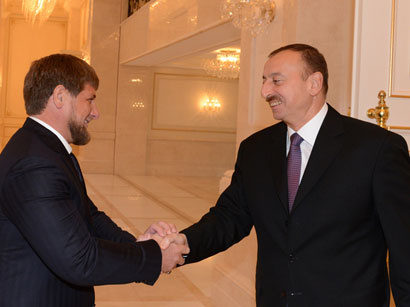 Azerbaijani President Ilham Aliyev on Thursday met President of the Chechen Republic of the Russian Federation Ramzan Kadyrov and his accompanying delegation.
President Aliyev expressed confidence that strengthening of cooperation between Azerbaijan and republics of the Russian Federation would contribute to Azerbaijan-Russia relationship.
President Aliyev described the second visit of Kadyrov to Azerbaijan as vivid evidence of friendly and fraternal relations between the two countries` peoples. The Azerbaijani leader underscored the importance of expansion of bilateral cooperation in economic and humanitarian fields.
Aliyev praised the fact that stability was established in Chechnya and large-scale projects were implemented in the republic. The Azerbaijani president congratulated Ramzan Kadyrov on the accomplishments achieved in Chechnya.
Kadyrov, in turn, said friendly and fraternal relations between the Azerbaijani and Chechen peoples had old historical roots. The Chechen leader said there is great interest to rapid development of Azerbaijan. He also recalled national leader Heydar Aliyev`s care for the Chechen people in hard times.
On the same day a dinner was given for the Chechen leader on behalf of President Aliyev.